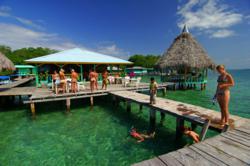 Bocas del Toro offers uncrowded waves, secluded beaches, colorful coral reefs, abundant marine life and vibrant island nightlife. Why would you want to study Spanish elsewhere
Bocas del Toro, Panama (PRWEB) November 20, 2012
Habla Ya Spanish Schools, one of the top-rated Spanish training institutions in Central America, has launched its latest contest, offering the chance to win the ultimate Spanish immersion vacation in Bocas del Toro, Panama. The impressive prize package includes $500 in cash, lodging at Tungara Hostel, tours in Bocas del Toro (including surf lesson, scuba diving lesson, sailing, cacao plantation tour, zipline canopy tour and caving tour) and four weeks of Spanish lessons
"We are excited to offer one lucky winner the chance to learn Spanish in a beautiful, tropical setting, while experiencing total immersion into Panamanian life," said Julio Santamaria, Co-Founder, Habla Ya Spanish Schools. "Bocas del Toro offers uncrowded waves, secluded beaches, colorful coral reefs, abundant marine life and vibrant island nightlife. Why would you want to study Spanish elsewhere?"
To enter, contestants must first '"like" the Habla Ya Facebook Page and upload a photo or video of themselves holding a sign, in front of a recognizable landmark in their home town or city, that says: "I want to learn Spanish in Panama!" The person with the most likes, wins. Likes will be counted from November 19 through December 31, 2012, midnight, local Panama time. For full contest instructions (if you don't follow them exactly, your entry doesn't count!), about how to win a 4 week Spanish immersion in Central America please click here...
"Obviously, the more creative you get, the more likes you will get," said Julio Santamaria, Co-Founder, Habla Ya Spanish Schools. "We can't wait to see what people come up with!"
Habla Ya is Panama's premier network of Spanish schools with campuses in Boquete and Bocas del Toro, Panama's most exciting eco-adventure vacation destinations, by the beach and in the mountains. Habla Ya Spanish Schools are considered to be amongst the top specialist Spanish training institutions in Central America and amongst the leading providers of Spanish immersion programs in Latin America.