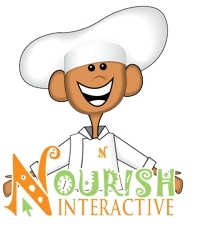 I made a commitment to provide quality nutrition education resources that were fun and engaging for Hispanic families.
San Mateo, CA (PRWEB) September 21, 2010
Nourish Interactive Inc announces the launch of the Spanish version of their nutrition education website. The website, nourishinteractive.com has offered some of the materials in Spanish over the last several years but now the entire website is bilingual.
NourishInteractive.com is a free website with over 25 interactive nutrition games and tools to help children and parents make nutrition fun for the whole family. Earlier this year, the USDA listed nourishinteractive.com as one of the best websites for fighting childhood obesity. The American Library Association awarded nourishinteractive.com with their "Best Kids' Website" Seal.
Obesity rates tripled in the past 30 years, a trend that means, for the first time in our history, American children may face a shorter expected lifespan than their parents. Obesity has spread rapidly across race, gender, and class lines, but its prevalence has increased disproportionately among African-American, Hispanic, and Native American children. With a significant number of Hispanic children overweight or obese, they need free nutrition and health resources in their primary language.
"I come from a Hispanic family and I wanted to make sure all Hispanics have access to these free nutrition games and tools. It is important for them to have resources in the language that is easiest for them to understand," said Maggie LaBarbera, Founder of Nourish Interactive, Inc.
The First Lady Michelle Obama's Let's Move organization emphasizes the importance of empowering parents and caregivers to combat the epidemic of childhood obesity. Often times in households where both parents are working, the pressure to provide quick, easy meals results in frequent consumption of fast food, which is high in fat and calories and low in nutritional value. Nourish Interactive aims to give all parents, in English and Spanish, the facts, tools, and easy practical steps needed to make healthier choices.
The whole family can have fun and learn together to establish healthier habits at home.
The nutrition education website has comprehensive material and online media for parents, educators and kids.
Website highlights include:
Interactive talking BMI calculator
Educational games for children based on the USDA Food Pyramid
Food label reading tools
A nutrition dictionary
Monthly healthy tips calendars
Articles for parents with practical suggestions for taking steps to healthier nutrition habits at home
Educator materials are conveniently found in English and Spanish
Visit Nourish Interactive's nutrition education website in Spanish
About Nourish Interactive
Nourish Interactive, Inc. is committed to educating both children and their parents about the importance of nutrition and exercise, with the belief that prevention is the best treatment. Nourish Interactive has developed a learning platform that comes to life with its interactive online game that offers fun, innovative ways to empower children to make healthy choices. In creating an educational product that involves both children and their parents, Nourish Interactive acknowledges the key roles both parents and health educators play to make an effective learning experience.
###