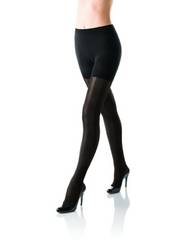 Atlanta, GA (Vocus) December 18, 2009
Holiday season is here, and with all of the parties, sweets, and zero gym time, it's no surprise that the average American woman gains 7-10 lbs. this time of year.
If holiday festivities have left your waistline missing in action, and you're wondering how you'll shimmy into your holiday dresses, it may be time to treat yourself to a pair of SPANX. Spanx shapewear expert Maggie Adams shares tips and slim-down solutions to hide extra winter weight without sacrificing comfort.
When choosing shapewear it's important to consider your figure and fashion choice. The goal is to accentuate your assets and hide any liabilities. Keep in mind that the right undergarments are crucial to achieving the right fit and a sleek silhouette.

The Skinny on Sara Blakely:
Nine years ago, Sara Blakely began her mission to make the world a better place, one butt at a time. A frustrated (yet fashionable) consumer-turned-entrepreneur, Sara invented SPANX footless pantyhose and single-rearendedly revolutionized the hosiery industry. Obsessed with creating comfortable, slimming undergarments that minimize figure flaws, Sara reinvented shapewear with smart features and won the hearts of fashion-loving women from Oprah to Jessica Alba. In an effort to provide better shapewear options to even more women, Sara launched ASSETS by Sara Blakely, an expertly-designed undergarment brand bringing innovative shapewear and legwear solutions to all women.
For more information, contact: Maggie Adams, 678-500-1246
http://www.facebook.com/SPANXInc
###