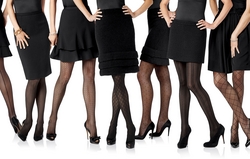 Atlanta, GA (Vocus) December 23, 2009 - Every woman wants a little Spanx-
ing this holiday season, whether she admits it or not. Below are some great gift-giving ideas that are both fun and functional. These gifts are sure to leave her saying thanks for SPANX!
For every girl on your list - SPANX Tight-End Tights ($28-$42) are the perfect stocking stuffers this holiday season. Give the gals on your holiday list a gift that keeps on giving by stocking up on stockings. Fashionable and functional, these tights are twice as nice and will give you a slim silhouette all season long.
Lurex: Silver & Gold ($32, Sizes: A-E)
Colors: From Lipstick Pink to Peacock Blue, and even shades of gold, our fun colored tights are sure to match your every holiday mood. ($26-$42, Sizes: A-G)
New Fall Patterns: Trinket, Houndstooth, Corset ($28, Colors: Black & Bittersweet, Sizes: A-E)
New Fall Open Weave Patterns: Birdseye & Chain Stripe ($42 Colors: Black & Nude, Sizes: A-E)
For the wonderful moms and sisters in our lives - A great option for "the girls" is the SPANX Bra-llelujah ($62, Styles: Underwire Contour, Racerback, Wireless, and Demi Push-Up, Colors: soft pink, vanilla, nude, black, and mocha). With naturally adjusting straps and an all-hosiery back that rids the appearance of back fat, this bra is so comfortable you'll forget you have it on. Fans include NY Housewife Jill Zarin and her daughter Allie, as well as Marcia Cross, and Brooke Shields.
For moms-to-be on your list - If you've got friends or family expecting, ASSETS Marvelous Mama Terrific Tights are the perfect gift for moms-to-be. This opaque legwear is a great way to spice up a friend's maternity wardrobe, plus they'll flatter her figure. These tights also offer underbelly and back support that lifts away pressure. ($18, Sizes: 1-4; Colors: Black & Brown)
For a fashionable friend who has everything - Get your style savvy girlfriend a shaping camisole she'll adore, the Haute Contour Couture Camisole. This top is lingerie-inspired outerwear with the benefits of shapewear. It can be paired with a blazer during the day or with jeans and heels at night. This camisole has exclusively developed scalloped shaping-power-lace that flattens the stomach, while the microfiber modesty panel under lace provides additional coverage and slimming support. ($198; Pitch, Blush, Chesnut & Sterling; XS-L)
Also, if you're throwing an all girls holiday party; definitely consider doing a SPANX Gift Exchange. Have every girl purchase one Spanx product that they "can't live without". Find a unique way to exchange the Spanx and when the game ends you are left with someone else's favorite pair of SPANX!
The Skinny on Spanx and Sara Blakely:
Nine years ago, Sara Blakely began her mission to make the world a better place, one butt at a time. A frustrated (yet fashionable) consumer-turned-entrepreneur, Sara invented SPANX footless pantyhose and single-rearendedly revolutionized the hosiery industry. Obsessed with creating comfortable, slimming undergarments that minimize figure flaws, Sara reinvented shapewear with smart features and won the hearts of fashion-loving women from Oprah to Jessica Alba. In an effort to provide better shapewear options to even more women, Sara launched ASSETS by Sara Blakely, an expertly-designed undergarment brand bringing innovative shapewear and legwear solutions to all women.
For more information, contact: Maggie Adams, 678-500-1246
http://www.facebook.com/SPANXInc
# # #