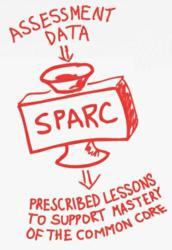 Our single goal is to get students to 'own' the skill with dynamic learning activities, audio, video, animation – the works
Chandler, AZ (PRWEB) February 18, 2013
ODYSSEYWARE, one of the leading publishers of online curriculum, has recently released ODYSSEYWARE SPARC, a new set of assessment tools and instructional materials to support Common Core State Standards (CCSS).
SPARC helps teachers accurately identify student competency levels (grades K-8) in relation to CCSS and provides supplemental materials for targeted skills remediation and practice to help them achieve mastery. These engaging mini-lessons focus on one skill per lesson and approach content differently than in the basic curriculum. This new content can be used as supplemental material to build student skill sets.
SPARC is now fully integrated into ODYSSEYWARE for use by teachers and learners. Current customers have immediate access to this revolutionary teaching and learning tool at no additional charge.
SPARC lessons are:

Skills-focused
Vocabulary-intensive
Media-rich
Assessment-driven
"SPARC is a set of materials that provides targeted skills remediation and practice in multiple ways," said Jen Salta, VP of Product Development. "Our single goal is to get students to 'own' the skill with dynamic learning activities, audio, video, animation – the works," she said.
Committed to providing curriculum that is relevant, a learning management system that is robust, and a high level of service to schools across the country, ODYSSEYWARE is continually enhancing its educational program with tools and resources to increase efficiency and effectiveness.
ODYSSEYWARE remains committed providing schools across the country quality educational materials in a totally web-delivered environment, continually releasing courses, content additions, changes, and improvements at no additional charge to ensure the most current curriculum is always available to your school.
About ODYSSEYWARE:
Headquartered in Chandler, Arizona, ODYSSEYWARE is an innovative, multimedia-enriched online curriculum. Completely web-based, it provides 21st century educational solutions by offering the core subjects of history and geography, math, language arts, and science, enriching electives, and placement testing. More than 300,000 students across the United States have connected with self-directed learning through ODYSSEYWARE. This curriculum is offered to schools directly through regional education specialists. To learn more, visit ODYSSEYWARE at http://www.odysseyware.com or call 877.795.8904.