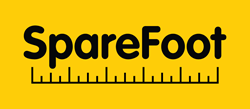 Austin, TX (PRWEB) September 16, 2013
Self-storage marketplace SpareFoot is offering relief to those affected by the devastating floods in Colorado. The Austin, TX-based company will donate a month of storage to businesses, families and individuals who need temporary space to store and protect their belongings in the aftermath of the flooding.
SpareFoot will mail a check to cover a victim's first month of self-storage rent (up to $100). The check will cover rental of a storage unit within a 75-mile radius of Boulder, CO. Customers must move in by October 16, 2013. Additional details about the offer are available on the SpareFoot website.
"The images of the destruction in Colorado are heartbreaking. Our thoughts go out to the communities that have been hit hard by this disaster," SpareFoot CEO Chuck Gordon said. "While human lives obviously are the most important consideration in a situation like this, we at SpareFoot hope our offer of free storage space can help people in Colorado recover from the floods."
About SpareFoot
SpareFoot makes renting self-storage easy. Our free marketplace lets customers find and reserve storage units online. We have the largest inventory of storage units in the U.S., with a network of more than 6,500 facilities ranging from mom-and-pop to publicly traded REIT. We reach millions of people who need storage through exclusive partnerships with brands like SelfStorage.com, Apartments.com and Penske Truck Rental. The Austin Business Journal named SpareFoot the Best Place to Work in Central Texas for 2013.
For more information, visit http://www.sparefoot.com.