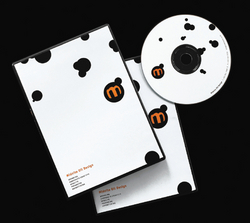 The original logo displayed a black drop of lamp oil with turquoise lightning in the shape of the letter M. The approach had become dated and the palette lacked energy
New York, New York (PRWEB) December 11, 2007
The Spark Awards, launched this year, recognize design excellence in a broad variety of categories for both professional, novice and student designers. Spark entries may include designs from graphics, product, digital, advertising, systems, mobility and architecture disciplines.
The Spark Awards' 15 person multi-disciplinary jury chose Midnite Oil Design's new logo for its skillful reinterpretation of the agency's original logo. The creative identity rethink came as part of Midnite Oil's 10th anniversary celebration.
Inspired by the phrase "burning the Midnite oil," the design team imagined the random splattering of oil drops during a frenzied night of artistic creativity. The resulting graphic depicts two overlapping black circles. The thickness and gloss of the oil reflected the company monogram, "M" for Midnite Oil.
The team chose orange for the M, representing power, energy and readiness for action. To complement the logo, a design motif of splattered oil drops was created to be used on business cards, letterhead and other elements of Midnite Oil's corporate identity package.
"The original logo displayed a black drop of lamp oil with turquoise lightning in the shape of the letter M. The approach had become dated and the palette lacked energy," said Midnite Oil Co-Founder and Design Director, Mongkolsri Janjarasskul, who served as art director and designer for the winning entry. He was joined on the project team by illustrator and animator Danai Tanee.
"The new logo and branding design required a symbol to show us as dynamic and energetic, a symbol to inspire confidence as we expanded our presence in the international corporate community."
The design team's solution satisfied all of the original design objectives. The team found a new way to represent the oil visually and gave it a more lively and energetic look. It has a 3-D feeling without looking overly scientific or high tech. It's also easily adaptable to printing in one-color applications and recognizable even when reduced and placed in front of a website URL.
Midnite Oil's award-winning logo also meets the high standards of the American Institute of Graphic Arts. In a 1991 essay, the AIGA's Paul Rand wrote: "A well designed logo...is a reflection of the business it symbolizes. It connotes a thoughtful and purposeful enterprise, and mirrors the quality of its products and services. It is good public relations--a harbinger of good will."
Midnite Oil is an award-winning multi-disciplinary design firm based in Bangkok. It was founded in 1993 by experienced advertising agency designers, all graduates of US design schools. Its services cover all aspects of product branding. In addition to print media incorporating graphic design, packaging design and advertising, Midnite Oil offers shop and display layout concepts, website construction and interactive design works.
Midnite Oil's international clients include JVC, McDonald's, Clairol, Schweppes, EMI, Fieldcrest/Cannon, Prudential Insurance, Amway and more. Major Thai clients include TOA (Paint) and Bangkok Post.
The Spark Awards' independent jury of design experts judged hundreds of submissions. It awarded 62 designs, including Midnite Oil's, each among the best of the world in seven categories from mobility to architecture. The entire roster of winning entries is available in an Online Exhibition.
"Interest in design has never been higher," said Peter Kuchnicki, President and Executive Director of Spark. "There are no limits to what great design can accomplish - and no limits to possible recognition by the Spark Awards. We're looking at the future and seeing a dazzling array of design solutions to 21st century challenges."
Sponsors of the 2007 Spark Awards are as wide-ranging as the contest itself. They include Hewlett Packard, frog design, Dwell Magazine, Automobile Magazine, Design Within Reach, RedClay Websites, San Francisco Mart, California College of Art, Rutgers NCPP, School of Visual Arts, University of California College of Environmental Design, University of Michigan Taubman College of Architecture and Urban Planning, AIGA SF and Billingsly & Brown Productions.
Entries are being accepted for the Spark Design Awards 2008 beginning January 1. The Phase One General Deadline is March 15, 2008. Interested firms and designers should visit the Spark Awards web site for more information on entering and a complete schedule of deadlines and events: http://www.sparkawards.com
About the Spark Awards
Spark embraces design criteria for process, strategy, integration, aspiration, collaboration, sustainability and other essential 21st century concerns. They all add up to betterment: Better lives, better health, better water, better air, peace and liberty. Great design is a critical tool to help us get there. We're new and we have a new world view - please join us. Visit our web site for a gallery of entries to date, our blogservations about design and much more: http://www.sparkawards.com
###