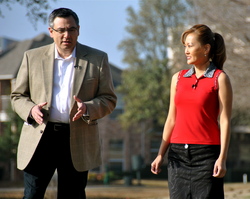 "spark360 is all about empowering the entrepreneur by creating a new channel of content that we call social business television," said Chris Kraft, President of parent company Splash Media, L.P.
Dallas, TX (PRWEB) March 31, 2010
Small to medium-sized business owners with few marketing resources may wait a long time before CNBC or CNN contact them to profile their companies. Yet spark360, a new online business news program from Dallas-based Splash Media launching today, uses experienced journalists, professionally-produced web video and a wide variety of Spark-branded new media channels to let companies tell the world how they are impacting their industries.
And it just so happens that a former CNBC/CNN anchor-reporter will help those companies tell those stories.
Award-winning journalist Renay San Miguel, a 30-year veteran of local and national broadcast news, has teamed up with Splash Media president/co-founder Chris Kraft and Senior Producer Steven Swaim to help launch spark360. San Miguel joins a team that will give companies the power of news-style storytelling to reach a worldwide audience via online video, which Nielsen Research says will make up 90 percent of all internet traffic by 2012. Putting those videos on spark360 managed channels on Facebook, Google, MySpace, Twitter, YouTube and other platforms, as well as the new spark 360.tv website and on special mobile applications, opens up compelling two-way communications between the companies and the public - a public that can include potential customers, investors and employees.
"spark360 is all about empowering the entrepreneur by creating a new channel of content that we call 'social business television.' The spark360 concept allows entrepreneurs to bypass traditional media channels enabling them tell their story directly to their audience. spark360 gives entrepreneurs an opportunity to use traditional broadcast news style storytelling and leverage it with the power of social networking and social media distribution, " said Chris Kraft, President of parent company Splash Media, L.P.
"Like Jake Sully in 'Avatar,' I guess I've gone native," said San Miguel, who covered technology for CNBC, CNN and CBS MarketWatch. "I've reported on the digital revolution and its impact on the business world since 1997. I've watched the Internet and social media reshape journalism, marketing and public relations. I just thought it was time to put into practice some ideas I've had about blending news-type storytelling with the goals of media relations and the power of web-based platforms. As it happens, Chris Kraft and Splash Media were way ahead of me on that score, and they have the tools and the talent to make this happen."
How It Works
spark360 works with companies to hammer out the messages they want told in a four to six minute, professionally produced video. And even though the process will be collaborative up until the videos go live on the web, spark360 maintains 100 percent editorial control.
"Yes, this is paid content. But think '60 Minutes,' not SlapChop," San Miguel said. "Anything that looks too cheesy or commercial will turn the viewers off. I'll be asking executives questions about the competition and potentially negative economic factors. I want them to defend their business models. The spark360 team and I have been finding and telling stories for a while. We know how to put together compelling, informative and entertaining segments that will maintain integrity and help the businesses with their goals."
San Miguel and the crew will visit the company, shoot interviews and capture related b-roll. Company officials may also be invited to the Splash Media studios in Addison, Texas for one-on-one interviews conducted on the spark360 virtual set.
Once the video is produced and approved, it's placed in the proprietary spark360 distribution platform:

The story is featured on the spark360.tv website free of bandwidth and hosting charges for one year. It's also embeddable and linkable to the company's own website.
It's plugged into spark360's social video platforms; spark360 manages channels on YouTube, Google Video, Vimeo, Viddler, Revver and others.
The video is placed on spark360's Facebook page - introducing the company to a potential audience of 400 million users worldwide.
•Links to the video, along with related content, are placed on the spark360 Twitter account.

spark360 builds a podcast of the story for the Apple iTunes store - the world's top podcasting destination.
The stories run on exclusive mobile applications for the iPhone, iPod Touch and iPad, with Android and Blackberry versions coming soon.
A post about the company and behind-the-scenes video/photo content appear on the spark360 blog.
The story will also be available on internet-connected televisions powered by Roku/Netflix set-top boxes.
spark360 presents the company with a DVD of the story.
spark360 will also write and distribute press releases regarding the featured segment.
The spark360 distribution model was created to take advantage of the latest search engine optimization (SEO) techniques. "Video is clearly the content king on the Internet. By creating compelling content and leveraging it with our 360 Distribution platform, we are positioning our client's stories well for the search engines and giving them exposure to millions of potential eyeballs," said Kraft.
About spark360
spark360 is a Web-based business television program that celebrates the spark of entrepreneurship in America by featuring the unique stories of small and middle-market businesses.
spark360 also provides a credible and relevant outlet to get your story to a global marketplace through our exclusive 360 Distribution social media platform. spark360 delivers broadcast-quality, network news-style programs via a comprehensive SEO-optimized "full circle" distribution strategy that reaches every corner of the Internet.spark360 is a division of Splash Media, L.P.
For media inquiries for spark360, please contact: Steven Swaim sswaim(at)spark360(dot)tv
About Splash Media
Splash Media L.P., based in Addison, Texas, creates and develops custom web-based communications and training solutions that are powered by video. We specialize in developing video communications strategies and video delivery platforms that drive our customer's bottom line. Splash Media is a leader in the Enterprise Video Communications industry and has been delivering Internet enabled strategic video solutions since 2004.
For media inquiries for Splash Media, please contact: Chris Kraft ckraft(at)splashmedia(dot)com
###