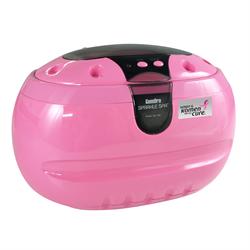 These Pink Sparkle Spa jewelry cleaners not only help give to the breast cancer cause... They also help keep my friends in the jewelry industry aware of cancer risks and the need to stand together
Saint Paul, MN (PRWEB) September 01, 2011
In June, Sy Kessler Sales, Inc. partnered their GemOro jewelry cleaning line with Susan G. Komen's Race for the Cure® to create the Pink Sparkle Spa. Starting in September, St. Paul based watch and jewelry supplier, Esslinger & Company, will join the rank of GemOro distributors carrying these limited edition Pink Sparkle Spa personal ultrasonic jewelry cleaners.
"Almost everyone's life has been touched by breast cancer in some way, be it a friend, co-worker, or family member," said Bill Esslinger, owner of Esslinger & Company, "And this is one way to fight back."
These ultrasonic cleaners are designed with a bright pink ABS plastic exterior and a Susan G. Komen Race of the Cure® logo to promote Brest Cancer Awareness and will be available this coming October. Now, when a jeweler or hobbyist goes to purchase a personal jewelry cleaner, they can turn a necessary purchase into a contribution to the battle to end breast cancer: four dollars of each Pink Sparkle Spa sold will go to fund the Susan G Komen Race for the Cure®.
The Sparkle Spa is just the jewelry cleaner for jewelers and jewelry lovers alike. These limited edition ultrasonics feature all the qualities consumers have come to expect from GemOro: they are built to last and to provide high quality jewelry cleaning.
"These Pink Sparkle Spa jewelry cleaners not only help give to the breast cancer cause," said Esslinger, "They also help keep my friends in the jewelry industry aware of cancer risks and the need to stand together."
With each step taken, humankind gets closer to a cure for breast cancer, a cancer that in the next 25 years is predicted to claim the lives of 10 million women. Join the fight with Esslinger & Company. Visit Esslinger.com today to order one of these limited edition Pink Sparkle Spa personal ultrasonic jewelry cleaners.
###