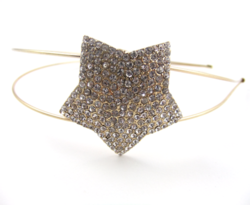 (PRWEB) November 15, 2012
The holiday season is all about breaking out the most elegant attire and refined hairstyles. Being polished and dressing up for family and friends is basically an unwritten rule for any holiday party (unless you are the family black sheep). Figuring out what to wear on your body and feet seems to be the easier choice, however, choosing an elegant hair accessory to tie everything together seems to be forgotten.  Sparkly headbands and Cute Headbands seem to be at the top of the list this year based on consumer demand. Exclusive headbands for women are also a great way to add more details to your hairstyle that nobody can mimic since they are exclusive!
So when it comes to choosing a hair piece, most people don't want to pick a hair accessory that doesn't go with the the theme of the party. The best fit for evening style is a sparkly metal headband. Why? These types of headbands are the best because they can go with anything elegant. Going for something festive is a great way to showcase the holiday spirit. Perhaps, a headband with a crystal star? Trying on new hair accessories is a great way to accent hairstyles.
 
The inventory at sprooshop.com are handpicked by the SproosShop team and offer a great variety of styles. The Sparkly Reminder headband is a wonderful headband with a crystal headband. This headband is great for sleek pulled back hairstyles, for instance: High sock buns, sleek ponytails, and french braids.  We also offer the Super Star headband that is a great POP for any hairstyle. This headband can be worn with the hair up or down! This a great statement headband for a glamorous girl. Try wearing this headband with loose waves and a great cocktail dress. For more information and style tips, check out our website's blog for handy advice.
So here is a quick list of tips for those who are gearing up for the holiday season. First off, always remember to keep it classy. Keep it classy? What does that mean? It means not wearing anything skimpy or revealing for a holiday party. Keep in mind, especially in an office or large family party, that wearing something too "unique" will draw attention is a weird way.  Second quick tip, keep your makeup palette lady like and   try inventing with dark colors for eye shadows or lipsticks.
Shop Sproos for all your headband needs! Free shipping and free returns.