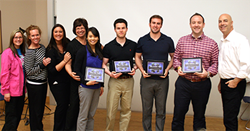 It's exciting and rewarding to see patients take back control of their lives and their health with more pain-free days, it's really life changing.
LEHIGH VALLEY, Penn., (PRWEB) May 13, 2015
Spark Orthodontics, a premier orthodontic treatment provider serving residents in the Bethlehem, Reading and Schuylkill Haven communities of Pennsylvania, now offers the TruDenta system, a comprehensive treatment program for patients suffering with chronic pain relating to headaches, migraines, tension, and whiplash. The treatment consists of a combination of proven therapeutic, state-of-the-art techniques to evaluate and treat patients with pain or discomfort caused as a consequence of improper muscle forces in the mouth, neck, and head areas.
According to the National Headache Foundation, more than 37 million Americans suffer from migraines, and these individuals lose more than 157 million work and school days annually due to pain. Aside from migraine sufferers, it is projected that 90 percent of the population also endures other types of chronic debilitating headaches.
According to Jason M. Hartman, D.M.D., M.S. of Spark Orthodontics, treatment is badly needed in a subsection of the population that suffers from ongoing chronic head and neck pain.
"The TruDenta treatment program allows us to give our patients immediate relief and long-lasting results," Hartman says. "It's exciting and rewarding to see patients take back control of their lives and their health with more pain-free days, it's really life changing."
Hartman and the Spark team of orthodontic specialists use the TruDenta system to evaluate a patient's pain symptoms and disabilities in the teeth, muscles, and joints that likely are caused by force imbalances. Once objective data is gathered, patients receive individualized therapy tailored to their condition. The rehabilitation of muscles and nerves causing the pain is a combination of in-office treatments and at-home care. Treatment is minimally invasive and painless, with no needles or drugs involved.
For more information and to schedule a free consultation, visit SparkSmiles.com, email info(at)sparkorthodontics(dot)com or call the Spark Orthodontics office in Bethlehem at (610) 865-2777, in Temple at (610) 223-7777 or in Schuylkill Haven at (570) 385-1344
About Spark Orthodontics:
Spark Orthodontics team of highly skilled and experienced orthodontists provides patients with a variety of approaches and opinions for orthodontic procedures and treatment for customized treatment with each individual patient.
Spark is a premier provider of the Invisalign® aligners, placing the practice in the top 5 percent of providers able to help patients look better, faster and with more comfort. It is also one of the few area orthodontic practices to offer Accelerated Invisalign with Acceldent.
Spark Orthodontics is dedicated to providing treatments that produce the most beneficial and rewarding results for its patients. Spark offers affordable, flexible payment plans, and has three state-of-the-art offices serving the Lehigh Valley/Bethlehem community, Berks County/Temple community and Schuylkill County/Schuylkill Haven community.
###