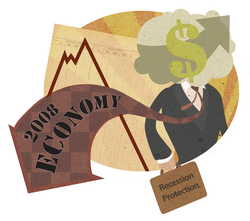 I can work simultaneously with clients in Virginia, Los Angeles, and Canada via the Internet. That made it possible for me to choose the city where I wanted to raise my family
Portland, OR (PRWEB) January 15, 2008
At a time when many who have secure jobs are counting their blessings, David Billings is striking out on his own. In the face of what some predict will be a year of recession, he is placing his bets on a brand new enterprise.
After five years assisting attorneys in developing courtroom presentations as a consultant with TrialGraphix, Inc., Billings is heading up his own illustration and 2D animation studio, Sparky Firepants Images. As Director of Operations for the TrialGraphix Washington, DC facility, he enjoyed the security of a full-time career at the nation's leading provider of litigation presentation consulting. "It was rewarding and challenging," he says, "but increasingly I've felt a strong urge to return to my roots as an artist." He chose Portland, Oregon as his base of operations because of the large creative community and lower cost of living.
"There's such a large community of creative professionals in Portland, I knew that I would be in very good company," says Billings. He notes globally successful advertising firm Weiden + Kennedy, award-winning commercial animation studio LAIKA/House, and creative organizations such as ASIFA-Portland and Self-Employed Creative Professionals among the inspiring forces behind his decision to put down roots in Bridgetown.
In addition to the larger commercial houses, Billings is also looking to form relationships with independent artists in the northeast Alberta district where he lives. "It's inspiring to meet local artists who are creating original work and making a living despite the condition of the economy."
The lower cost of living in Portland also made it a good choice of location for a new business. "When you're establishing any new business, keeping your overhead low is one of the keys to staying power," Billings notes. In addition, his start-up financing comes from personal investments, so the credit problems that sideline many new businesses won't be a concern. "I think that's going to be another key to staying afloat after the first year, recession or not," he says.
Although Sparky Firepants Images is considered a Portland-based business, David works with clients from all points of the globe. "I can work simultaneously with clients in Virginia, Los Angeles, and Canada via the Internet. That made it possible for me to choose the city where I wanted to raise my family," he says. A global client pool also provides some buffer against the predicted economic downturn. He predicts that when things slow down in the U.S. and companies scale back their advertising budgets, clients in Europe and Asia will be recruiting talent for their projects.
Billings says that it's important for newer entrepreneurs to stay positive in the lean times and continue to build their businesses. "I've seen recessions before and they don't last forever," he says. "If businesses like mine can continue to build through a down cycle, then we'll be ahead of the game when the economy picks up again."
David Billings has been a professional illustrator for ten years, having contributed artwork to books, print, and broadcast television, including MTV Networks/Nick Jr.'s Emmy-nominated series, Blue's Clues. He is a children's book author and creative force behind Sparky Firepants Images, a Portland-based illustration and 2D animation studio.
If you'd like more information about this topic, or to schedule an interview with David Billings, please call him at 971-533-7013 or e-mail him at mail@davidjbillings.com. His company web site can be found at http://www.sparkyfirepants.com.
###