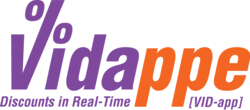 San Francisco, CA (PRWEB) May 23, 2012
GreenStack, Inc. has just acquired Vidappe ["Vid-app"], a free mobile application that alerts people of the free discounts they can use thanks to their association with various membership programs. Vidappe launched in June 2011, and was created by Star Li, a 2010 Cornell University graduate from the Dyson School of Applied Economics and Management.
Star conceived of the idea for Vidappe in the Johnson School class "NBA 3000: Entrepreneur and Private Equities" in fall 2009, won first place in the 2010 Cornell University Big Idea Competition with her business plan and pitch, and began working on Vidappe after graduation. "We are very impressed with what Star accomplished and are delighted to have her join our team," said David Hehman, CEO.
Vidappe has aggregated the discounts for 170+ US organizations (university alumni associations, schools, recreational organizations, metro transit stations, and more) that offer free deals for their members. All existing members have to do is download the iPhone/Android app, subscribe to as many discount programs there are relevant to them, and get alerted of these deals whenever they are physically near a participating merchant.
Vidappe will be integrated into GreenStack, which is launching in summer 2012. Star will be joining on as Head of Sales and is responsible for getting nationwide and local organizations on board.