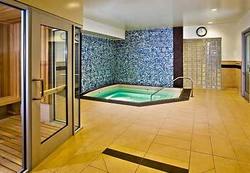 Aliso Viejo, CA (PRWEB) March 23, 2010
The Renaissance ClubSport's R Spa provides travelers and locals with a full range of spa treatments. Guests of the spa can select from nine different types of massages, as well as face, body and specialty treatments to melt away stress and pamper themselves.
The nine types massages offered by the luxury day spa in Orange County range from classic to specialty aromatherapy, deep tissue or restorative hot stone massages. Among the most popular are the Prenatal Massage, Couple's Sea of Love Massage and Tandem Massage.
The Prenatal Massage nurtures and relaxes expectant mothers. A certified prenatal massage therapist administers this massage. The techniques used focus on the health and wellbeing of the mother to be.
The Couple's Sea of Love Massage lets couples experience a classic massage together. Couples are placed in adjoining suites to receive their massages.
The Tandem Massage provides a relaxing and rejuvenating experience. Two massage therapists work in unison to administer the Tandem Massage. Recipients receive a full body treatment at the hands of skilled massage therapists.
R Spa also offers a variety of health, beauty, hand and foot treatments. Some of the most popular are:

Facials including European, age treatments, refreshing, acne and men's fitness offerings
Anti-cellulite treatments with pure essential oils
Detoxifying Chai Soy Mud Body wraps with Colorado Indian Spring clay, organic soy and herbal spices
Microdermabrasion and Tropical Brown Sugar Scrub with honey, cinnamon and Tahitian vanilla
Facial enhancements for firming eyes, hydrating lips, treating dark circles and puffiness, resurfacing and refining skin and more
Anti-aging treatments
Hand rejuvenation and manicure with aromatic oil, exfoliating scrub and a paraffin treatment
Foot exfoliation and treatments using botanical extracts and essential oils
In addition to the relaxing and rejuvenating treatments offered at the spa, guests can attend a makeup consultation. Those who choose this option will learn how to select the perfect makeup tone. The spa also offers makeup application services. Those who want to look their best for a special event can choose this option. Along with the application, they will learn about makeup selection.
For more information about the R Spa in Orange County visit us online or call 949-330-5550.
About the Renaissance ClubSport
The Renaissance ClubSport Aliso Viejo provides guests with everything they need for a beautiful Southern California weekend getaway. The hotel is the home of R Spa, which is a favorite among the spas in Orange County. Along with the spa, hotel guests have access to a 75,000 square feet fitness club and spacious guestrooms. The hotel also has restaurants, lounges and recreational activities available.
###