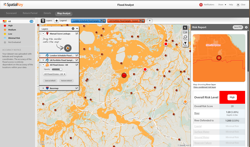 Tom Link: "The success of our first collaborative effort in flood underwriting is an important step in delivering relevant exposure management solutions to market."
San Francisco, CA (PRWEB) February 11, 2013
SpatialKey's expertise in delivering intuitive, visual, and actionable analytics and JBA's industry-leading flood models and hazard maps are a perfect blend of innovation and science. The first collaborative effort between SpatialKey and JBA has already been put into production at several insurers, and integrates seamlessly with SpatialKey's existing suite of applications for exposure management, event analysis, and underwriting. 
SpatialKey's new Flood Underwriting application enables insurers to leverage JBA's detailed flood maps to optimize risk selection and enhance profit at the point of sale. This easy to use application is delivered on-demand and easily integrates with existing systems. Insurers can realize business value immediately from a turn-key solution, rather than deal with costly IT deployments, training and maintenance. 
"JBA's recognized leadership in hazard modeling and commitment to helping insurers manage and mitigate risk make them an ideal partner to SpatialKey. We are proud of what we have accomplished to date with JBA and are delighted to integrate JBA's science into SpatialKey's purpose-built workflows and visual analytics. The success of our first collaborative effort in flood underwriting is an important step in delivering relevant exposure management solutions to market," says Tom Link, CEO and founder of SpatialKey. 
Flood risk solutions are currently available in many regions of Europe and Asia, but the breadth of the solution suite will continue to expand into other regions across the globe. Insurers will have access to JBA hazard maps detailing river flood depth at various return periods, and depending on region, other hazards, such as coastal flood, surface and ground water, and reservoir and canal failure.  
Underwriting decisions can be made more efficiently with a clear view of risk and understanding of the contribution of prospective risks to an existing portfolio. For broader exposure management needs, insurers will be able to evaluate flood risk at both global and local levels, helping them target underwriting and risk transfer strategies.
Jane Toothill, Director of JBA Risk Management, said, "The partnership between SpatialKey and JBA is a perfect example of collaboration between experts whose shared aim is to enhance our clients' business. We are delighted that our combined knowledge and understanding of the re/insurance industry is producing innovative and creative results. The new Flood Underwriting application is the first of these, and we are confident that it will enable insurers to make swift yet sound underwriting decisions."
SpatialKey and JBA Risk Management will continue to build innovative, pragmatic solutions for insurers worldwide. Both companies are committed to assisting this industry with the quantification and management of risk from underwriting to exposure management and risk transfer.
For more information regarding SpatialKey solutions, please visit http://www.spatialkey.com. For more information regarding models available from JBA, please visit http://www.jbarisk.com.
About SpatialKey
SpatialKey is a leader in insurance analytics and visualization and delivers tangible business value to insurance companies via its purpose-built applications. Its Insurance Intelligence solution integrates industry-leading data products with intuitive, best-in-class user experience and information visualization. SpatialKey's solution directly serves analysts, underwriters and line managers, claims and portfolio managers, and executives. Companies are now empowered with accelerated understanding, collaboration, and decision-making. Nothing unlocks the full potential of business intelligence like SpatialKey.
About JBA Risk Management Limited
JBA Risk Management is a leading provider of natural hazard modelling services to the insurance and reinsurance sector. We are a team of insightful people with great ideas that we deliver through exceptional technical expertise. We provide security through knowledge, helping you and your customers to understand and manage natural peril risk.