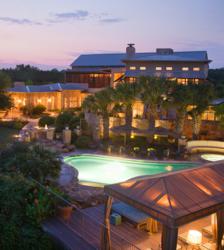 Austin, Texas (PRWEB) January 16, 2013
Known for its abundant offerings of more than 100 services at the resort's 25,000-square foot LakeHouse Spa, the refreshed treatment menu features seven new offerings which draw inspiration from the Earth as well as from ancient and modern therapeutic techniques. Wooden hammers, Plant Stem Cell Serum and 58 hydrotherapy jets are just a few of the highlights that spa-goers will benefit from in 2013 at Lake Austin Spa Resort.
"We take our guests' health and wellness very seriously and these new treatments complement the outstanding lake vistas, deliciously healthy cuisine and orchestrated daily fitness and discovery regime at our award-winning destination spa," says Robin Jones, Spa Director.
A complete listing of the resort's 100+ spa services can be viewed online.
EARTHLY INSPIRATION
Little Drops of Rain
Signature treatment. This Native American-inspired treatment utilizes nine essential oils sprinkled along the spine, coupled with specialized massage strokes. Some of the essential oils have a natural warming effect on the spine. The oils help to melt away tension in the back and neck, aligning energy. Stress is relieved and a true sense of well-being is restored. 50 minutes $165 / 80 minutes $215
DEEPLY RELAXING
The Ancient Art of Tok Sen
Signature treatment. This centuries old Northern Thailand massage, utilizes the stretching of Table Thai massage combined with rhythmic tapping on the energy lines of the body with a special wooden hammer to create deeply healing vibrations. The soothing vibrations release energy blockages and stimulate circulation. This technique combined with Thai massage leaves the body relaxed and rebalanced. Loose, comfortable clothing required. 50 minutes $160 / 80 minutes $210
Sports Soak and Massage
Soak in mineral salts in the 58-jet hydrotherapy tub to ease muscle soreness and aid detoxification before the specialized massage. Athletic massage using arnica oil incorporates rhythmic strokes along with medium pressure to stimulate muscles, aid in flexibility and flush metabolic waste. You'll emerge feeling relaxed and refreshed. 70 minutes $195
HYDRATING
Quench Body Wrap
This lusciously hydrating full-body quench infuses the skin with warm organic shea butter for head to toe healing. The shea butter is brushed on the body prior to being wrapped. While you are cocooned, warm oil is drizzled onto your hair for a luxurious scalp massage. 50 minutes $150 / 80 minutes $210
SLIMMING AND TONING
Calming Detox Wrap
A full-body massage followed by a detoxifying, firming wrap. While the soothing cactus gel warms on the body, blood circulation increases, which improves the skin's elasticity—helping to firm and tighten. This treatment is great for nourishing the skin as it's packed with vitamins, minerals and calming aloe. An intensive foot scrub with a honey heel glaze is included for the ultimate in foot hydration. 80 minutes $195
TURNING BACK TIME
Natural Face Lift
Our regenerating and high-performance facial utilizes ultrasonic and microcurrent technologies while incorporating Plant Stem Cell Serum, which can replace damaged skin cells. An herbal enzyme peel along with the serum stimulates new skin growth and slows cellular aging. The treatment will deliver deep hydration, helping erase fine lines and wrinkles for visibly firmer, more toned skin. 50 minutes $170
Advanced Resurfacing Facial
This advanced facial will re-energize skin cells, increase hydration, reduce wrinkles and firm and lift the skin. This results driven facial depends on active peptides for building collagen and restoring youthful qualities. Peptides also rejuvenate, revive and protect the skin. 50 minutes $170
Exquisite facilities further enhance the spa experience of overnight or day guests who visit Lake Austin Spa Resort. The LakeHouse Spa is furnished with art, antiques and textiles creating the feeling of visiting your best friend's lakehouse. The 20 indoor treatment spaces, with private showers and a state-of-the-art sound system were designed with comfort in mind. The Blue Room provides a waiting (and napping) area for guests, and tandem treatment suites, including the Bamboo Room—the private outdoor garden suite with an in-ground hot tub and outdoor shower—allow the guest to experience treatments with a friend or significant other. Treatment Cabanas and the Treatment Porch offer additional unique opportunities for outdoor treatments. Spa guests enjoy two swimming pools at the LakeHouse Spa, including the Junior Olympic-length lap pool housed in a grand Pool Barn. Separate men's and women's wet areas feature whirlpools, saunas and steam rooms that look out onto private, stone-walled gardens. The Aster Café features the healthy creations of Executive Chef Stéphane Beaucamp and is open for lunch daily.
ABOUT LAKE AUSTIN SPA RESORT
Nestled along the shores of scenic Lake Austin in the beautiful Texas Hill Country, Lake Austin Spa Resort offers guests the sanctuary of a world-class spa and the warmth of a best friend's lake house. Lake Austin Spa Resort offers all-inclusive vacation packages, which include accommodations in one of 40 charming lakeside guest rooms, three gourmet meals daily, indoor and outdoor fitness activities and classes, and a selection of spa and body treatments.
The resort has received numerous awards from prestigious national travel and spa magazines since its multi-million dollar renovation and expansion in 2004. Condé Nast Traveler, Travel + Leisure, Allure, the Zagat Survey, Health, Garden Design, SpaFinder Lifestyle, Spa Magazine and American Airlines' Celebrated Living magazine have recently honored Lake Austin Spa Resort as one of the best in the country and in the world.
For additional information and reservations, call 800-847-5637. Gift certificates are available.