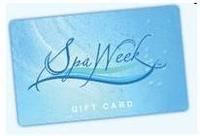 Given its past success, Spa Week has decided to bring back its $100 Gift Card for only $80 sale this Year in an even Bigger and Better way. With the state of the Economy the way it is, and that fact that the Holidays are rapidly approaching, Spa Week believes this will be a great way to offer a helping hand to its consumers
New York, NY (PRWEB) December 8, 2008
Spa Week Media Group announced today the Company's website, http://www.spaweek.org/ will again be offering its $100 Gift Card for only $80 promotion, effective now thru December 22nd. The Spa Week Gift Card is redeemable at over 600 spas across North America. A listing of the spas that accept the Spa Week Gift Card can be found on http://www.spaweek.org/content/giftcards.
This discounted Gift Card promotion was originally offered last Holiday Season as a way to highlight the Company's newly expanded Gift Card program. "Given its past success, Spa Week has decided to bring back its $100 Gift Card for only $80 sale this Year in an even Bigger and Better way. With the state of the Economy the way it is, and that fact that the Holidays are rapidly approaching, Spa Week believes this will be a great way to offer a helping hand to its consumers".
For this Holiday Season, Spa Week has incorporated major changes into its Gift Card program. The changes include: a customized gift box available with 14 different templates to create a truly customized look and an e-commerce section that contains (at a discount of course) some of our favorite products that can be bundled for sale with a Gift Card purchase. These products can be found on http://spaweek.org/giftcards/
Spa week turns the usual boring Gift Card into a truly personalized gift giving experience that you can be proud to send to your loved ones and co-workers. While this may be a limited time offering, there is no limit on how many Gift Cards you can order. After all, what could be better than the Gift of Wellness? How about the Gift of Wellness on Sale when it can help the most?
Since its inception in 2004, the Spa Week Brand has grown to become the single most effective marketing resource for day spas in the industry and Spa Week's $100 Gift Card for $80 promotion is just one more way we prove how much we care about our consumers. If this program allows our consumers to get just a little bit more joy out this Holiday Season, then we've done our job says Ms. Reid, founder of the Spa Week Brand.
For more information on Spa Week's Holiday Gift Card Sale, please contact Cheryl Reid at Spa Week Media Group, Ltd. at (212) 352.8098 or visit http://www.spaweek.org/
###