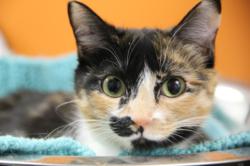 We are targeting female cats as they carry the litters, and can easily produce a litter or two over these next few months
Winnipeg, Manitoba (PRWEB) May 02, 2013
The Winnipeg Humane Society is having a 'May Day Spay Day' event in an effort to fix female felines and prevent unwanted litters. On Wednesday, May 29, a team of WHS veterinarians plan on reaching, and hopefully surpassing, the goal of 100 spays in an 8-hour period.
Spay surgeries at Winnipeg veterinarian clinics typically range within $125 - $225. People who live on social assistance or fixed incomes and who reside in Winnipeg will pay only $35, this includes the spay surgery and vaccination. "We are hoping this event will be an incentive for people who have delayed for timing or cost purposes to finally get this surgery done before their cat has babies," said Dr. Dr. Erika Anseeuw, WHS Director of Animal Health.
"We are targeting female cats as they carry the litters, and can easily produce a litter or two over these next few months," said Dr. Anseeuw. People with a male cat who live on social assistance or fixed incomes can still contact the WHS and make an appointment for a later date. The overall goal for this one-day event is to reduce cat overpopulation, particularly at a time – June thru October - when unwanted litters overwhelm shelters and neighborhoods.
Interested pet owners looking to book a surgery for 'May Day Spay Day' should call 204-888-7627 (SNAP), or visit The WHS. These pet owners will be asked to bring their notice of assessment or social assistance documents to find out if they qualify for the subsidized rate of $35.
Cats should be a minimum of 4 months of age, in good health, should be under the care of a veterinarian and be up to date with vaccinations. Cats must be transported to and from their appointment in a pet carrier.
###
About: The Winnipeg Humane Society is a registered charity and non-profit organization whose mission is to protect all animals from suffering and to promote their welfare and dignity. Funded primarily by donations, memberships and bequests, The WHS also offers pets and dogs for adoption by the public. All pets offered for adoption have been spayed or neutered, received necessary shots and treatments, and a behavioural assessment. If you'd like to learn more about dogs for adoption or The WHS please visit http://www.winnipeghumanesociety.ca