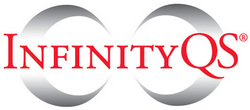 These modules present manufacturers with an opportunity to leverage the quality data they are already collecting in new ways
Chantilly, VA (Vocus) October 5, 2010
InfinityQS® International, the leading provider of real-time Statistical Process Control (SPC) software, announced a new promotion to encourage manufacturers to increase the Return on Investment (ROI) of their shop floor quality data by implementing workflow scheduling, monitoring, calibration or data integration software.
The promotion applies a 50% discount to InfinityQS software modules when purchased with any consulting service, a seat in an InfinityQS training class, or an Infusion registration. The available modules are:
-- Dynamic Scheduler ensures 100% compliance by cueing operators to upcoming scheduled quality checks and allows users to implement a dynamic sampling workflow.
-- Data Management System (DMS) integrates process/part data from multiple sources (ie GE Proficy, OLEDB, Wonderware, OPC, and others) into InfinityQS to enhance real-time predictive analysis.
-- Net Process Monitor provides a dashboard-view of alarms, assignable action codes and raw data as information is entered throughout the shop floor.
-- Quality Monitor provides a configuration-free snapshot-view of key manufacturing characteristics. It is ideal for environments that use automated data collection.
-- Measurement Systems Analysis (MSA) allows users to evaluate gage repeatability and reproducibility and displays gage R&R control charts and tolerance reports. It integrates with ProFicient to prevent incapable or out-of-calibration gages from being used for data collection.
-- Gage Tracking System (GTS) controls and maintains calibration requirements, procedures and results and alerts operators when gages are due for calibration. It integrates with ProFicient to prevent incapable or out-of-calibration gages from being used for data collection.
-- Remote Alarm Monitor Service (RAMS) allows statistical and out-of-specification alarms to be triggered and saved in highly automated environments and where plants run "lights out."
"These modules present manufacturers with an opportunity to leverage the quality data they are already collecting in new ways," said Michael A. Lyle, president and CEO at InfinityQS. "The short term benefits customers realize by improving their gaging, data integration and workflow management add up to long term gains in productivity and operational efficiency."
There is no limit on the amount of modules that can be purchased at the 50% discount rate once the original requirement is met. The promotion runs from Oct. 1, 2010 to Dec. 31, 2010.
About InfinityQS International
InfinityQS is the leading provider of SPC software and services to a broad array of companies, from multi-national giants to smaller, more specialized manufacturers. InfinityQS develops software solutions to help manufacturers to monitor, control and improve the quality of their manufacturing operations across a site, an enterprise or an entire supply chain, continuing to provide significant returns on their initial investment. The company's goal is always to improve clients' internal quality standards and ensure their continued success in the global marketplace. For more information about InfinityQS, visit http://www.infinityqs.com.
###