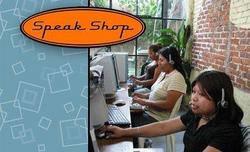 "We get very nice notes from customers who are about to close their accounts that say, 'It's not you, it's me….' I thought: We should have an award," says Cindy Cooper, Co-founder
Portland, OR, (PRWEB) June 9, 2010
Speak Shop, the award-winning provider of live online Spanish classes and certified B Corp(for benefit company), is pleased to announce the Speak Shop Breakup Award. The award recognizes enthusiastic, happy customers who have stopped taking lessons with Speak Shop.
The idea was inspired by "breakup" emails from customers who were excited about achieving their goals and ready to move on. Cindy Cooper, Co-founder, says, "We get very nice notes from customers who are about to close their accounts that basically say, 'It's not you, it's me….' I thought: We should have an award."
Kara, a busy medical resident in Florida, is the first Breakup Award winner. Her breakup note said: "I hold Speak Shop in high regard and truly value the services you offer. I am now able to communicate with my Spanish-speaking patients." She added, "You offer an invaluable service, especially to medical personnel and students. The classes are affordable and extremely flexible. Speak Shop has offered me the ability to fit Spanish classes into my very hectic and unpredictable schedule. I have been able to develop a personal relationship with my teacher, Aracely, who is in Guatemala. In addition to improving my grammar, she has helped me understand cultural issues which are very pertinent to my Latin American patients." Kara will receive a Speak Shop t-shirt and lifelong thanks.
Speak Shop is a social mission business, created to make it easy to take live Spanish lessons online and to provide fair wages to language teachers in impoverished countries. For about $10 per lesson, customers use their computers to meet face-to-face with their Spanish tutor at their convenience. Speak Shop teachers are Spanish instruction specialists living in Guatemala and Nicaragua. Speak Shop enables them to operate their own tutoring business, set their own rates and hours and connect with customers all over the world.
Many of Speak Shop's former customers return to brush up, or even travel to Central America to take lessons in person. "Even after they reach their goals and a comfort level with the language, our best customers continue meeting with their tutors," says Founder and CEO Clay Cooper. "Working with a teacher who is completely focused on their needs, they learn more quickly, and they have fun. The fun factor is usually a big change from the methods they've tried in the past. It's motivating for them and rewarding for us."
About Speak Shop
Speak Shop is a certified B Corp (for benefit company) founded in 2004 to increase access to cross-cultural foreign language education and to generate fair wage businesses for people in developing countries. Speak Shop charges students a membership fee of $9.99 to $39.99 per month depending on the number of lessons they plan to take. Speak Shop makes it possible to learn Spanish online with live Spanish tutors in Latin America. Customers (i.e. Spanish students) schedule, purchase and take one-on-one Spanish lessons by webcam. Connected to a world market and empowered as micro-entrepreneurs, tutors move from poverty to prosperity. Customers are able to take personalized, cross-cultural, conversational Spanish lessons at their convenience using a computer and high speed Internet connection. For more details visit http://www.speakshop.com.
###