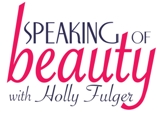 "We don't talk enough about beauty and the issues it brings up, to one another. I believe that is beginning to change" says Holly. "The older I become, the more I see that physical beauty is lovely to look at, but ultimately meaningless."
Hollywood, CA (PRWEB) August 21, 2012
Actress, Writer and Beauty Spokesperson Holly Fulger ("Ellen" / "thirtysomething" / "Anything But Love") is on a personal mission with her newest ground-breaking digital series, "Speaking of Beauty with Holly Fulger," to open a dialog among women to address their concerns and insecurities about aging and ultimately help women discover their inner-beauty, enhance their self-image and feel more beautiful at every age. The web series launches today, August 21, on http://www.speakingofbeauty.tv, and on "Speaking of Beauty with Holly Fulger" YouTube channel: http://www.youtube.com/SpeakingofBeautyTV
Created and Executive Produced by Holly Fulger, and directed and produced by Melinda Augustina ("16 to Life" / "Fun with War Crimes" / "Three-Fifty"), the new beauty web series showcases Holly's interviews with her favorite role models and "everyday heroes" of all races, ages and backgrounds. These dynamic individuals discuss their personal vision of beauty, the negative effects of media's "ideal woman," and how these perceptions influence their lives.
Interviews include: Writer/Performer, Dari Mackenzie, who launched Twiggy's clothing line and worked with Fellini in the 60's, sharing her perspective on aging gracefully; Twelve-year-old Student and Aspiring Writer, Grace Williams, who shares her "wise-beyond-years" thoughts on the imperfections of beauty; Jewelry Designer, Rachel Abroms, sharing how family and Society's negative focus on weight led her to self-mutilate before finding peace; and Professional & Personal Development Coach of Missing Peace, Cynthia Ordebuga, sharing beauty wisdom passed down from her grandmother and from her own experiences growing up as an African-American in a segregated society.
Fans who subscribe to "Speaking of Beauty with Holly Fulger" on YouTube channel will be the first to receive additional access to beauty related health data, provided by "Speaking of Beauty's" medical partner, the Cleveland Clinic's national women's health education program, http://www.SpeakingofWomensHealth.com. (@SPKWomensHealth) In addition, today only from 10am to 4pm PT, "Speaking of Beauty with Holly Fulger" will exclusively offer viewers the ability to submit questions, or comments, to be personally answered by Holly and her guests.
In September 2012, the Cleveland Clinic Speaking of Women's Health partnership will be formally announced in conjunction with additional episodes rolling out weekly to all fans on the official web site: http://www.speakingofbeauty.tv, along with the official release of the corresponding "Speaking of Beauty Inner Beauty" journal book by Holly Fulger.
Taking a profound look at both the positive and negative aspects of beauty, Holly's new web series presents a platform for resolving the paradox of being "beautiful" and the power of being yourself.
An accomplished actress, "Speaking of Beauty" Host, Holly Fulger was a television series regular on such shows as "Ellen," "thirtysomething," "Anything But Love" with Jamie Lee Curtis. Additional appearances and feature films include the Disney trilogy "Zenon, Girl of the 21st Century," and over fifteen television movies. Holly is married to character actor, Ron Bottitta, and lives with their two children and all their rescue animals, in Hancock Park, California.
For more information, please review: http://www.speakingofbeauty.tv or contact: Publicist, Joy A. Kennelly ph: 310 714-2077 email: joykennelly(at)speakingofbeauty(dot)tv