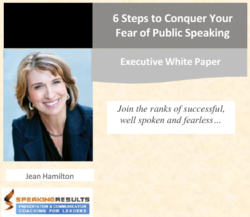 many successful business leaders harbor a well-kept secret
Seattle, WA (PRWEB) October 09, 2012
Jean Hamilton, founder of Speaking Results, today released a new whitepaper: "Six Steps to Conquer Your Fear of Public Speaking". Jean Hamilton says "I has discovered that many successful business leaders harbor a well-kept secret: They routinely tremble—though usually unnoticed by their audience—during the first five minutes of a public presentation. Even after their fear subsides, the notion of it can linger in the back of their minds as a niggling worry that dampens the delivery of their entire address."
Step 4 of the six steps Jean Hamilton offers is: "Remember: It's not about you"
"Nervous feelings may mean you're thinking too much about yourself and whether the audience likes you. Instead, put your focus on meeting the needs of your audience. What do you want to convey to them? How does your message help them? What do you want to make sure they remember? When you think about meeting these objectives, rather than worrying about their opinion of you, your fear settles down."
The new method for distribution of whitepapers by Speaking Results is Scribd.com. Scribd is a document-sharing website which says it is The World's Largest Online Library where people read, publish, and share documents and written works of various formats, and embed them into a web page using its iPaper format.
Jean Hamilton has articles published previously in Alaska and Horizon Air magazines titled: The Art of Storytelling. The Spoken Word and Amuse to Inspire. These articles are available on the Speaking Results website.
For more information and download the whitepaper "6 Steps to Conquer Your Fear of Public Speaking", use this link: http://www.scribd.com/doc/109432033/6-Steps-to-Conquer-Your-Fear-of-Public-Speaking
About the Author: Jean Hamilton founded Speaking Results in 1998. She brings 25 years of experience in coaching, teaching and performing to Speaking Results. She has worked with CEOs, CFOs, Vice Presidents, Managers, Attorneys, Financial Consultants, CPAs, Engineers, and Educators. With her discerning eye, she gives you the feedback you need to make tremendous improvements. Her love of her work makes the process fun! For information, contact Jean Hamilton at speakingresults(at)msn(dot)com.