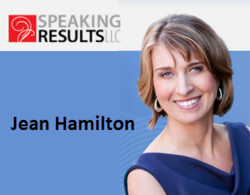 "I'm very proud of my new site. The videos on the site make it unique and give a real sense of my personality."
Seattle, WA (PRWEB) June 06, 2013
Jean Hamilton, executive presentation coach, and Founder and Principal of Speaking Results LLC, announced the launch of her newly designed website and offerings at http://www.speakingresults.com. Hamilton says, "I'm very proud of my new site. The videos on the site make it unique and give a real sense of my personality." She goes on to say, "People often call and say, 'I feel like I already know you.' Starting the call warm like that, makes it much easier to turn an initial inquiry into business."
Terry Simpson, producer/director at T'Visions Productions http://www.tvisions.tv, designed the site and the videos. Jean walks on, pops up, disappears and reappears. Says Simpson, "We were really looking for the perfect client to showcase the new Rotator function of our player, which allows a different video to play each time the viewer visits the site or re-loads. Jean's sense of creativity, fun and professionalism make the site memorable."
Simpson often tells people their website is a chance to give viewers a taste of what it would be like to work with you. He says, "When people go on your site, they are wondering: 'Do I trust this person? Can we connect?' A video can answer these questions in seconds because viewers can use their 'truth-o-meter'. Anyone can hire a good designer and a great writer, but with a video, people can tell if the words come from the heart." After his work with television, Simpson's company T'Visions Productions specializes in walk-on videos. They use a process which includes an extensive questionnaire and interview to get to the core of how to reach a target audience. Simpson helps shape the right words into a series of 30 to 45 second scripts that highlight a unique value proposition and distinguishes his clients from their competition.
"Everyone is looking for a way to stand out, to get an edge. A well-designed site with great videos is one way to make that happen," says Simpson. "Clients like Jean are great because she is so passionate about her work and committed to helping her clients be amazing. All we have to do is put her front and center and let the truth shine through."
WorldWideWebSize.com estimates the Indexed Web contains at least 4.69 billion pages and about 700 million sites. These statistics came to the attention of Jean Hamilton who decided that a website should be more a personal experience. Breaking the mold of what is typically found on the Internet, http://www.speakingresults.com adds the personal touch. If Moore's Law remains true and the number of websites on the Internet doubles every 18 to 24 months, Jean Hamilton is committed to thinking differently online to provide an experience others do not offer.
After the recent launch of the new website which operates on new principles for how to do business online, the response was immediate. Speaking Results reported new clients from around the USA have responded to her online activity which has included a new website launch, press releases (via PRWeb), and whitepapers (via the largest online library Scribd).
About the Company: Speaking Results LLC was founded in 1998 by Jean Hamilton. She brings 25 years of experience in coaching, teaching and performing to Speaking Results. She has worked with CEOs, CFOs, Vice Presidents, Managers, Attorneys, Financial Consultants, CPAs, Engineers, and Educators. With her discerning eye, she gives you the feedback you need to make tremendous improvements. For information, contact Jean Hamilton at [http://www.speakingresults.com.