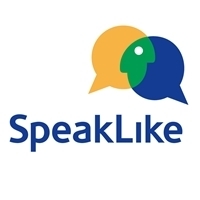 Our Twitter integration builds on what we learned with email and chat translation. Not only must it be easy to use, but it must be fast, good, and cheap
New York, NY (PRWEB) March 31, 2009
Twitter users can now get their "tweets" automatically translated by using SpeakLike Twitter Translation, a service announced by SpeakLike on Monday, March 9th at the New York Tech Meetup before an audience of 700. SpeakLike Twitter Translation extends the influence of individuals and marketers to new audiences around the globe, helps grow followings, and increases the worldwide appeal of Twitter.
SpeakLike Twitter Translation allows members of SpeakLike and Twitter to specify tweets that they want translated into any two of 10 currently supported languages. SpeakLike automatically posts the translated "tweaks" to the user's Twitter feed. Twitter users who are interested in using SpeakLike Twitter Translation should visit the SpeakLike Twitter Translation sign-up page.
SpeakLike Twitter Translation, like other SpeakLike services, uses a proprietary workflow based on a "crowdsourcing" model. A crowd of translators around the world is always at the ready to translate tweets, emails and chats for SpeakLike users. SpeakLike bridges the gap between expensive, time-consuming translation services and error-prone machine translation with a system that combines self-learning technology with human oversight to ensure business-quality results.
"Our Twitter integration builds on what we learned with email and chat translation. Not only must it be easy to use, but it must be fast, good, and cheap," said SpeakLike Founder and CEO Sanford Cohen. "Machine translation just won't do. The only way to ensure you are communicating the message you want is to have a human involved. SpeakLike makes this possible for all Twitter users."
Twitter power users have already expressed enthusiasm about SpeakLike Twitter Translation. Aaron Brazell, Lead Editor of Technosailor.com, with over 6,000 Twitter followers, said, "In a global social media environment, the value of being able to distribute your content to as many demographics as possible, in multiple languages, only enlarges your influence." Nick O'Neill, Founder of AllFacebook/Social Times, with over 4,000 followers, said, "Want to expand your reach beyond domestic followers? Translating your tweets helps increase your reach by an order of magnitude. There is simply no more effective way for reaching more people in a short amount of time."
About SpeakLike
SpeakLike, led by entrepreneur Sanford H. Cohen, brings a breakthrough to the Internet: multi-language communications that combine the best of automated technologies and human quality control. SpeakLike integrates seamlessly into email and chat, and offers an API for on-the-fly translation of dynamic content. As Sanford puts it, "We're making it easy for any two people in the world to understand one another while speaking in their native languages. That level of cross-language communication is beyond exciting. There is really no limit to how many great things can come of it."
For more information about SpeakLike Twitter Translation and other SpeakLike services, visit the SpeakLike Web site. To follow SpeakLike on Twitter, click here.
###