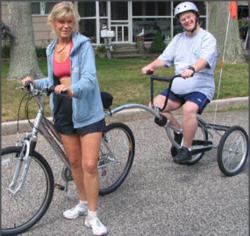 kids and adults who are unable to ride a bicycle love it
Blaine, WA (PRWEB) July 20, 2011
PedalCarsAndRetro.com has introduced young riders and kids or adults with special needs to the thrill of cycling as the sole online distributor of the Caboose Trailer Bike from Morgan Cycle.
The Caboose is changing the lives of handicapped children and adults with a wide variety of disabilities. Unlike tandems, single-wheeled trailers or sit-in trailer bikes, the Caboose has a stable two-wheel construction that allows the rider to actually ride the bike.
Says Pedal Cars and Retro's Joan Winter, "kids and adults who are unable to ride a bicycle love it. And, compared to less stable solutions, the price is amazing.
With a new sense of freedom, families, including their family members with handicaps, are drawn together as they take to the open road on their bicycles.
Available in two sizes, the Model 20 is perfect for most 5-10 year olds and the Model 26 is great for 10 year-olds all the way up to 95 year-olds or more. The high quality construction allows a maximum weight of 200 lbs.
As Joan added, "Our special needs bike is unique. Whereas most companies in this market space think a sit-in trailer is good enough our trailer bike provides a safe, stable bike that people can actually ride with you".
A 2-wheel design to prevent the side-to-side movement, padded seat with coiled springs, optional backrest, and pneumatic tires with full bearings ensure a comfortable, safe and secure ride. For storage or transport, the Caboose bike folds and, with the wheels removed, is only 10" deep.
Because of its stable design, the Caboose trailer bike has become popular with physiotherapists and families of kids or adults with special needs who would otherwise never experience the joy of riding a bike and feeling the wind in their faces as they cycle.
The Caboose seems to have thought of everything and even has a luggage rack on the back so take along a picnic lunch and you'll have a day to remember.
###