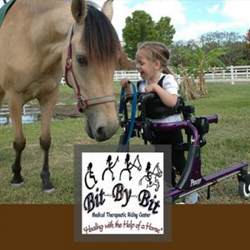 It is amazing how therapeutic riding can benefit individuals with disabilities and help them improve balance, coordination, self-esteem, a sense of accomplishment, and many others. On top of that, it provides them with the opportunity to have fun and enjoy the outdoors
Plantation, FL (PRWEB) September 13, 2017
Dillon Ruxton Insurance, a comprehensive insurance and financial preparation agency that works with families and entrepreneurs in the greater Fort Lauderdale region, is launching a charity drive to help raise local support for the Bit by Bit Medical Therapeutic Riding Center, headquartered in nearby Davie, Florida.
The Bit by Bit Medical Therapeutic Riding Center offers a series of courses for children with special needs that revolve around horse riding sessions. These sessions have been shown to improve physical and psychological health, as well as enhancing healing and speech aptitudes.
"It is amazing how therapeutic riding can benefit individuals with disabilities and help them improve balance, coordination, self-esteem, a sense of accomplishment, and many others. On top of that, it provides them with the opportunity to have fun and enjoy the outdoors. We couldn't be more honored to support an organization as outstanding as Bit by Bit," says April Ruxton, managing director of Dillon Ruxton Insurance.
Efforts by the Ruxton team to publicize the ongoing charity drive are utilizing a broad range of online channels, including both social media and email campaigns, to reach potential supporters in the community. Further publicity for the charity drive is anticipated pending the release of a full length write up on the event slated for release in the newest edition of the Dillon Ruxton Insurance online magazine "Our Hometown": http://dillonruxtoninsurance.com/magazines/.
Two other charitable groups in the Fort Lauderdale region have enjoyed the support of Dillon Ruxton Insurance since the firm became affiliated with the "Agents of Change" charity assistance group. Ruxton and her team plan to continue their policy of selecting new charities in southern Florida to work with on a quarterly basis.
For all readers interested in supporting the Bit by Bit Medical Therapeutic Riding Center charity event alongside the Dillon Ruxton Insurance team are urged to help make a difference for special needs children by following this link and joining the cause: http://dillonruxtoninsurance.com/causes/helping-children-special-needs-gallop-better-tomorrow/. Further information on other charity drives sponsored by the Dillon Ruxton Insurance team can be found on the agency's Community Causes listing: http://dillonruxtoninsurance.com/community/.
About Dillon Ruxton Insurance
As a Personal Finance Representative in Plantation, agency owner April Ruxton knows many local families. Her knowledge and understanding of the people in her community ensures that clients of Dillon Ruxton Insurance are provided with an outstanding level of service. April and her team look forward to helping families protect the things that are most important – family, home, car and more. Dillon Ruxton Insurance also offers clients a preparation strategy for achieving their financial goals. To contact an expert at Dillon Ruxton Insurance, visit http://dillonruxtoninsurance.com/ or call (954) 742-0801.