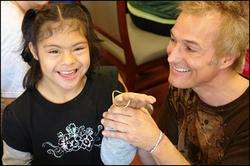 Our students with behavior disorders have a very hard time with frustration tolerance and task follow-through. I can see the Hocus Focus curriculum being an enjoyable time where they are perfecting these skills without knowing it
(PRWEB) May 5, 2009
Award-winning illusionist Kevin Spencer, the leading authority on the therapeutic use of magic in physical and psychosocial rehabilitation, announces the Summer 2009 launch of his new project, Hocus Focus, a student-centered, experiential-based educational approach utilizing the art of magic tricks in the context of empowering an empathetic, professional educator/student relationship for children with special needs.
"As educators, the most important aspect of one's work is to help children prepare for a bright and challenging future. But if we don't also teach our children how to deal with life's difficulties, many simply won't realize their potential," Spencer says. "With students who face additional challenges -- LD, ADHD, SLD, NLD, Autism or any number of other physical and/or psychosocial obstacles -- the job of an educator may include finding strategies to move them into becoming a more competent learner. That's why I created the Hocus Focus curriculum, with the fundamental goal of fostering student growth and development."
One of the most important factors for achieving success for the student is to make the learning process as tangible and visible as possible teaching facts and concepts they can see, touch, manipulate, and talk about.
"Our students with behavior disorders have a very hard time with frustration tolerance and task follow-through. I can see the Hocus Focus curriculum being an enjoyable time where they are perfecting these skills without knowing it," says Kathy McClung, Behavior Disorders Teacher in Iowa. "We need to constantly find ways to reach our students and I appreciate the work Spencer has done that gives us another tool in our belt."
Hocus Focus provides teachers with a visual, exciting, and motivating way to allow students to safely explore skill levels, improve existing skills, and develop new ones. It is a systematic approach by which students learn to focus and accomplish specific goals and objectives by learning magic tricks and then exploring the benefits of each one. Students learn simple tricks at first and move to more complex tricks as they progress. Watch this video about Hocus Focus to learn more.
Spencer is also the author of HEALING OF MAGIC, the most comprehensive guide available to establishing and maintaining a magic therapy program in a hospital or rehabilitation facility. The program - a systemic treatment modality incorporating the therapeutic use of simple magic tricks in physical and psychosocial rehabilitation - has been successfully utilized in many areas, including physical diagnoses, brain injuries and mental health. Therapists around the world as well as educators in the occupational and physiotherapy departments of leading universities are using the Healing of Magic program to help patients reach their therapeutic goals.
"I'm committed to empowering therapists with exciting new tools to aid them in helping their clients achieve functional, measurable goals. Magic wands don't always belong with black hats and rabbits -- sometimes they belong in hospitals where frail hands learn tricks and the magic is in the healing," Spencer says. Watch a video on the Healing of Magic.
The concepts of the Healing of Magic program are currently in use in hundreds of rehabilitation facilities in more than 30 countries. Spencer has collaborated on numerous research projects around the world to prove the validity of this treatment modality. You can read the research here.
Spencer has conducted numerous workshops for colleges, universities, hospitals, rehabilitation centers and health-related conferences throughout the United States. He has had the privilege of conducting workshops, seminars and in-service programs for doctors, occupational and physical therapists, special needs teachers and assistants, therapeutic recreational specialists, physiotherapists, college/university educators and dozens of other healthcare professionals. His presentations always receive the highest remarks from planners and participants for effectiveness in presentation, pertinence of information, and level of knowledge and expertise on the subject matter. He has been a featured speaker at the Virginia Occupational Therapy Association convention, the Great Southern Occupational Therapy Conference, the Health, Heart & Humor Conference and many statewide continuing education programs.
Spencer's work has been featured in the Journal of the American Medical Association, the Australian occupational Therapy Journal, HEALTH magazine, the Washington Post, NPR's All Things Considered and on dozens of television news programs including the CBS Early Morning Show, the Fox News Channel's FOX AND FRIENDS and Good Morning Singapore.
For more information on Kevin Spencer, visit http://www.SpencersMagic.com . To learn more about the summer launch of Spencer's Hocus Focus program for special needs students, visit http://www.HocusFocusEducation.com or http://www.MagicTherapy.com/therapists.html#MagicandEducation . Images are available upon request.
Contact:
Wayne Thomas
434-384-4740
###