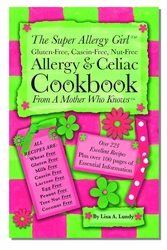 I had no idea that the vitamins and minerals the doctor recommended for Anne would make the difference between her walking or not walking within a developmentally normal timeframe
Buffalo, N.Y. (Vocus) August 19, 2009
Overall, 22 percent of all U.S. households with children had at least one child with special health care needs according to the U.S. Department of Health and Human Services, Health Resources and Services Administration, Maternal Child and Health Bureau (2008). Children with special health care needs are defined as those children who have a chronic physical, developmental, behavioral, or emotional condition who also require health and related services or a type or amount beyond that required by children generally. The National Survey of Children with Special Health Care Needs chartbook 2005-06 outlines the most commonly reported health conditions as allergies (53 percent); asthma (39 percent); attention-deficit and attention-deficit/hyperactivity disorder (30 percent); depression, anxiety or other emotional problems (21 percent); and migraine or frequent headaches (15 percent). Having a child with a special health care need can leave parents frustrated, anxious and unsure. Parents looking for support can find it in the form of a new video and brief tip sheet from motivational speaker and author, Lisa A. Lundy, which you can download free from her website at http://www.TheSuperAllergyCookbook.com.
Lundy knows up close and personal how difficult it can be to have a child with a special health care need since she has been dealing with it for over six years. Lundy's daughter, Anne, was a modern day bubble child a few years ago leaving the family living an isolated life. As a one-year old, Anne had a greater than 50% gross motor delay and was not predicted to be able to walk until she was older than 2-1/2 years of age. Anne's gross motor delay resolved quickly - Anne walked and crawled by age 16 months or nearly a year ahead of schedule- when Lundy added vitamins, minerals and essential fatty acids to Anne's diet at the suggestion of a medical doctor. "I had no idea that the vitamins and minerals the doctor recommended for Anne would make the difference between her walking or not walking within a developmentally normal timeframe," Lundy said. "It was actually Anne's physical therapist who pointed out the exceptionally rapid improvement Anne was making in a short window of time." The underlying health issue Anne has is the inability of her body to absorb vitamins, minerals and essential fatty acids from her diet - a problem her mother is working on in conjunction with medical doctors.
As the author of The Super Allergy Girl™ Allergy & Celiac Cookbook - From A Mother Who Knows™, a gluten-free, dairy-free, egg-free, peanut and tree nut free resource, Lundy knows the importance of good nutrition and special diets. Her oldest son, now 12 years of age, demonstrates ADHD behavior when he eats gluten and dairy an issue that causes his grades to plummet. A study by Vojdani, et al, in 2008 suggest that the variability of neurologic disorders that occur in gluten sensitivity is broader than previously reported and includes "softer" and more common neurologic disorders such as chronic headache, developmental delay (autism), hypotonia and learning disorders or ADHD. Lundy created a content-rich website with free white papers, tip sheets, videos, recipes and a Blog all designed to help consumers with a wide variety of food and health issues. She recently created a list of medical studies on the gluten-free diet, which is available at http://www.TheSuperAllergyCookbook.com.
Size: 6" x 9"
Pages: 405 pages
Soft Cover, Perfect Bound
ISBN#: 978-0-9797542-0-3
Price: $28.95
Contact: Ms. Lisa Lundy
Phone: (716) 835-6392
###