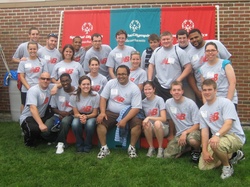 We were an important part of creating morale and cheering on the athletes at the event
Woburn, MA (Vocus) July 7, 2009
Worldwide Acquisitions, Inc., a leading outsourced sales and direct marketing firm in the northern Boston area, recently volunteered at the 2009 Massachusetts Special Olympics at Harvard University in Cambridge, MA. Twenty-one staff members from the company assisted with the volleyball games portion of the event, which included line judging, scoring games, delivering water, refereeing, and cheering on the teams.
The Special Olympics is the world's largest year-round program of physical fitness, sports training, and athletic competition for people with intellectual disabilities and/or closely related developmental disabilities. Close to one million athletes participate, with athletes in every state of the U.S. and in more than 140 countries around the world.
Owner and president of Worldwide Acquisitions, Julie Strait, said that Worldwide Acquisitions made the decision to volunteer at the event because they thought it was a meaningful cause. In addition, several Worldwide Acquisition members also know and/or are close to someone with intellectual disabilities.
"We were an important part of creating morale and cheering on the athletes at the event," said Julie Strait, owner of Worldwide Acquisitions. "Seeing the participants smile ear-to-ear after they scored a point or after we cheered them on was a great feeling. The experience was very rewarding for me and my team."
Worldwide Acquisitions is planning to continue "giving back" to their community, with the Special Olympics marking the start of that goal. Over the next few months, they are planning to donate their time and money to local charities in the Boston area.
About Worldwide Acquisitions, Inc.
A leading outsourced sales and direct marketing firm in the northern Boston area, Worldwide Acquisitions, Inc. acquires new customers for Fortune 500 companies by creating an effective sales force that prides itself on integrity, professionalism, and customer relations. Worldwide Acquisitions is a privately owned and operated firm dedicated to providing career opportunities to associates. For more information, contact Julie Strait at (781) 759-1291 or log on to http://www.wwacquisitions.com.
###