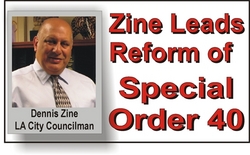 don't ask, don't tell
Los Angeles, CA (PRWEB) June 26, 2008
The Full Disclosure Network® presents a two-part program covering Los Angeles City Councilman Dennis Zine and his proposal to reform the controversial LAPD Special Order 40 in order to expand and facilitate deporting criminal alien gang members. The programs with Zine are part of a Full Disclosure Network® on-going series covering illegal alien gangs, drug cartels and organized crime in Los Angeles, and are featured on 45 cable systems and available on DVD. A six minute video preview is available here and on at http://www.fulldisclosure.net/Programs/519.php.

Jamiel Shaw,II Murder Sparks Reform Campaign: LAPD's Special Order 40, known as the "don't ask, don't tell," immigration policy came under serious attack following the arrest of an illegal alien 18th Street gang member in connection with the murder of 17 year old Jamiel Shaw, II, a popular L.A High school football star, who was shot just three doors from his home. The alleged killer, Pedro Espinosa, had been released from L.A. County jail 24 hours earlier after serving four months for assault and battery on a police officer and weapons charges and was in the United States illegally, according to law enforcement authorities. (People vs. Pedro Espinosa Case #BA337461)
Special Order 40 Reform Proposals: In the Full Disclosure® series, both Los Angeles Councilman Dennis Zine and the family of Jamiel Shaw, II, (the murder victim), describe their proposals to reform LAPD's Special Order 40 in order to expedite the deportation of criminal alien gang members.
Dennis Zine's Motion for reform has been awaiting a hearing in the Public Safety Committee for several months. Committee Chair, Jack Weiss has issued a statement saying he is waiting for LAPD Chief Bratton to issue a report before he schedules a hearing, causing a dispute over procedure. Both statements from Zine and Weiss are attached as files to this release. (see right hand column)
Gangs Extort LA Businesses; LAPD Fights Gangs with ICE Only in SF Valley:

Dennis Zine tells Full Disclosure Network® about his concern over current LAPD policies, "I want to know from Police Management (the Chief) why the LAPD is working with ten ICE agents in the Valley, deporting violent gang members, but not doing this in other parts of the city?"
Zine says, "Gangs are extorting money from businesses, like the days of Al Capone."
Also featured in the series are video clips of prominent and long-time law enforcement and civilian police officials describing their history and views on Special Order 4 as follows:

Councilman Dennis Zine: LAPD retired and currently Reserve Officer
U.S. Army Sgt. Anita Shaw: mother of murder victim
Jamiel Shaw, Sr: father of murder victim
Steve Ipsen: Pres. Association of Deputy District Attorneys
LAPD Chief William Bratton
LAPD Chief Daryl Gates (ret)
Edith Perez: (1998) Pres. LA Police Commission
Rick Caruso: (2002) Pres. LA Police Commission
David Cunningham, III, (2004) Pres. LA Police Commission
This two part series is featured on 45 cable systems in California, Washington D.C., Massachusetts, Maryland and Virginia, and is available on DVD with video previews on the Web site at http://www.fulldisclosure.net. A preview of the program is also featured on YouTube.
###