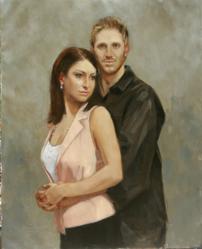 "Parents who embrace the tradition of portraiture plan for their children's portraits, in the same way that many plan for a Cotillion or Bar Mitzvah. It's an investment that underscores the value families place on heritage and the marking of milestones.
Phoenix, AZ (Vocus/PRWEB) April 06, 2011
After spending the past six months writing nearly 25,000 words of text and creating more than 300 images for her upcoming book, "Mastering Realistic Skin Tones in Portraiture", award-winning portrait painter Chris Saper can't wait to get back to her first love - creating original oil portraits for families and executives nationwide.
The special pricing for commissioned oil portraits is particularly designed to encourage clients to move forward with portraits they've been considering for some time. Family portrait traditions run deep.
"For many families, the tradition may be to paint the child at a preschool age, for others, graduating from college. Sometimes families will want each child to be painted at the same age, so their timing is somewhat narrow."
The savings will also allow many who have been considering, for example, a head and shoulders portrait to select a larger, more involved painting.
The timing has worked well for Saper. Her new book will be released by North Light Books next January, but from here on out, the editors take over - and Saper's schedule will again allow her to take on new clients.
###