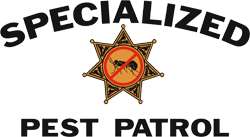 Folsom, CA (PRWEB) October 31, 2012
Specialized Pest Patrol, Folsom's leader in pest control is offering new customers a money-saving offer for their first service free with a one year agreement . With bi-monthly treatments, the value of exceptional customer service and a pest free home are something Folsom residents cannot afford to pass up.
Pest control service all year around is essential to keeping your home free of spiders, ants, and many other pests which plague homeowners. Specialized Pest Patrol develops great rapport and history with their customers, all of whom depend on living in a bug-free home.
The products used by Specialized Pest Patrol are completely safe around both humans and their pets. Technicians are experienced, knowledgeable, and offer each home extraordinary service and care. Each technician is thoroughly committed to keeping your property pest free. Calling on a pest control professional saves time and money while providing peace of mind.
While the first service free offer only applies to new customers, current customers are encouraged to recommend Specialized Pest Patrol to friends and neighbors as well. With each new customer referral, current customers will receive an additional free service. Specialized Pest Patrol has a proven track record throughout Folsom for keeping residents' homes protected from bugs.
Specialized Pest Patrol maintains steadfast dedication to working with products which maximize the safety of humans and pets and to provide the absolute best service to customers. For more information on pest control services in your home or business through Specialized Pest Control, visit http://specializedpest.com or call (916) 987-9559.