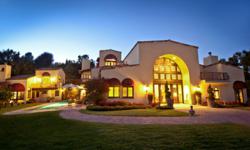 By looking for treatment and finding Bridges to Recovery, the person who has dealt with depression can find the help he or she needs.
Pacific Palisades, CA (PRWEB) September 29, 2012
For individuals who suffer from the effects of depression, good news abounds from Bridges to Recovery. Bridges to Recovery is now offering a specialized program for major depression and depression. The depression treatment program includes proven methods of treatment, modalities and residential accommodation. Bridges to Recovery is staffed by professional individuals who utilize the understanding that every portion of a person is important. The spiritual, mental and physical dimensions of each individual receive evaluation. From here, a plan for change is developed to help ensure the individual is able to move from depression to improved health and a normal mood state. People who do not need hospitalization can benefit from Bridges to Recovery's methods that deal with all types of depression.
One of the keys to success is the use of individualized depression treatment plans that do not simply use a cookie cutter approach for each person. The plans incorporate such things as healthy living, nutrition aspects, modification where needed, acupuncture and even art therapy. The setting in which these methods are used provides the opportunity for individuals to receive residential treatment in a wonderfully supportive environment that helps remove common pressures that are found in everyday home life. By giving the person who is suffering from depression a chance to place the major focus on his or her own recovery and health, success is much easier to achieve.
An evaluation will be given to each prospective participant in the Bridges to Recovery program. From here, the individualized plan will be developed that focuses on guiding the person to wellness overall. The combination of using clinical approaches and holistic measures helps patients gain the control they need over the depression that has brought them here for help. For example, individuals will be shown how to keep track of their feelings and moods by daily recording what they are experiencing. Unique ventures like cultural outings and music therapy will also provide relaxing ways to learn how to cope.
For this time of moving toward wellness, an individual will find the surroundings here to be very comfortable and luxurious. This is not a lockdown facility. The facility is totally safe and private and even gives access to the internet and to phones. There is now cause for rejoicing for anyone who has suffered from depression. By looking for treatment and finding Bridges to Recovery, the person who has dealt with depression can find the help he or she needs. Bridges to Recovery is also known as the California treatment center for depression disorder as well as an anxiety treatment clinic.