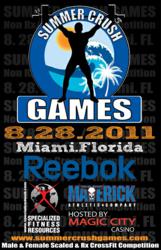 We pride ourselves on eco-friendly products and making a positive impact on the environment
Doral, FL (PRWEB) July 13, 2011
Specialized Fitness Resources, a company dedicated to fitness, athletic, and specialty surfaces, will provide the gym flooring at the Summer Crush Games on August 28th 2011. The Summer Crush Games is a one-day event hosted for male and female CrossFit athletes.
Specialized Fitness Resources will install diamond-shaped textured powermats for the Summer Crush Games event. The installation of specialized sports surfacing creates extra protection from dropped free-weights or kettlebells, which is essential at events testing the fitness capabilities of CrossFit competitors. Gym flooring is crucial for preventing damage to existing floors.
The Summer Crush Games is a well-known event for the south Florida CrossFit community. CrossFit is a constantly varied, high intensity program used to train powerlifters, bodybuilders, sprinters, and gymnasts, among others. CrossFit training intends to optimize physical capacity for such individuals; it also caters to police academies and tactical operations teams, military special operations units, champion martial artists, and hundreds of other elite and professional athletes. The Summer Crush Games include four divisions: Scaled Male, Scaled Female, Male Rx, and Female Rx. Male and female divisions consist of the top athletes within the CrossFit community; the top teams will participate in the Team Division.
With over 28 years of experience in the rubber industry, Specialized Fitness Resources produces gym flooring for a range of environments, including weight rooms, locker rooms, garages, and day-care centers. It has installed at-home gym flooring for celebrities such as Shaq and Sylvester Stallone. Most of the products are eco-friendly, and differ in thickness, size, and color.
At the conclusion of Summer Crush Games, all of the gym flooring used will be sold at a high discount. Ozzie Lopez, CEO of Specialized Fitness Resources, said, "We pride ourselves on eco-friendly products and making a positive impact on the environment." Specialized Fitness Resources supports the recycling program Nike Grind, in which Nike tennis shoes are made into granules used for new flooring, including artificial turf.
The company's sports surfacing is useful for many fitness-related environments, from popular sporting events such as the Summer Crush Games to playgrounds to yoga studios. For a variety of choices and services, visit http://www.specializedweb.com. Specialized Fitness Resources can also be located on Facebook and on Twitter @SpecializedMIA.
About Specialized Fitness Resources:
Founded in 2007 by Ozzie Lopez, Specialized Fitness Resources is a leader in fitness, athletic, and specialty flooring. It provides eco-friendly sports surfacing for a variety of athletic activities in public facilities and at home. Specialized Fitness Resources has outfitted dozens of CrossFit affiliated centers, police and fire departments, military branches, university fitness centers, and celebrity home gyms.
Contact:
Ozzie Lopez
info(at)specializedweb(dot)com
305-752-0451
###