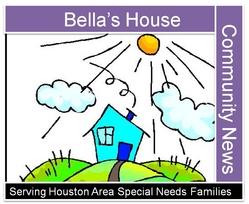 Starting your own special needs program – workshop
Spring, TX (PRWEB) January 28, 2010
Bella's House Community News is dedicated to supporting parents with special needs children by acting as a clearing house of information about local resources. We currently provide a resource directory, program reviews, event listings, blog and forum. It is our hope to combat at least in part, the sense of isolation and overwhelm that often parents with special needs children feel. With that hope in mind, we have launched a forum and added a new workshop.
We are pleased to announce our new forum is online. It is our hope that this will be a place parents will go to ask questions, share their experiences and get support. The forum is moderated by professionals in this arena (special education, therapy, etc.) and will be available to help answer questions when needed. Parents from all over the world are invited to join in the discussions!
It has come to our attention that some organizations are interested in welcoming disabled or special needs children and families into their existing program structure, but simply don't know where to start. We feel that when there are more opportunities for children to participate in a variety programs, the whole family benefits.
We are thrilled to offer "Starting your own special needs program – workshop"
This workshop takes a look at some of the parts and pieces to having a program for disabled children and their families. Participants will come away from the workshop very well equipped to begin their own special needs program. Options for delivery include a one day overview of all topics and a 2 day deeper dive including hands on exercises. Workshops can be scheduled when and where appropriate for each group. The associated cost is only $75 per person per day.
Topics covered include:
•Program readiness assessment
•Staff training
•Activity planning
•Role playing
•Equipment ideas
•Legal responsibilities
•Safety
•Providing excellence
•Understanding medical conditions
•Talking to parents
•Physical & behavioral needs
•Moving beyond the fear of the unknown
•Putting together an action plan
Join me in the effort to undergird the parents in this community by letting them know in whatever way you can about this valuable free resource and by encouraging organizations to participate!
Organizations can participate by listing their Houston area events and seminars, listing their Houston area business in the directory, contributing articles or purchasing banner advertising. Parents and professionals are encouraged to join the forum, submit articles, post on the blog, and leave feedback in the directory.
# # #