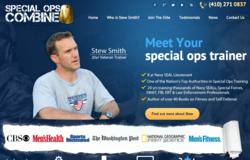 This is what the Special Ops Combine is all about. It is not about 'muscle confusion' or a 'magic black box' it is about the science of Periodization...The aim of periodization is to introduce new movements as you progress through the macrocycle
Annapolis, MD (PRWEB) October 01, 2012
Special Ops Combine is announcing the October 1, 2012 launch of the SpecialOpsCombine.com special operations training membership website with featured trainer and former Navy SEAL, Stew Smith. The Special Ops Combine training membership website provides fitness training for Navy SEAL, SWAT, Fire Jumper, Dive Rescue Specialists, Army Special Forces, DEA, Air Force Para Rescue, Navy SWCC, Army Spec Ops Pilot, Combat Control Tech, Hostage Rescue Team, Nave EOD, FBI Agent, USMC RECON, Secret Service, and related career candidates. This elite training program is one of the most trusted and effective programs in the country and has been used to prepare thousands of men and women for rigorously challenging careers in the special operations of the military, law enforcement and firefighters.
"I passed my FBI fit test yesterday with flying colors, and it was clearly from using your workouts. I scored the highest in my group in all events and set two new records. I ran the 300-meter in 45.92 (my past PR was 48), and I did 57 situps (past PR was 54). I did the 1.5 mile in 10:40, more than two minutes faster than when I first started on your workouts. I've also lost 40 pounds! I started in February with your Need for Speed workout, and then I bought and used your FBI eBook. Your articles on how to take the test were also very helpful. The ice bottles in the hands to keep my core cold, the sports drink for blood sugar, and the pacing and gravity tips all worked to maximize my scores.", says Allen M of Dallas TX and participant of the training system.
Special Ops Combine will be available to the public beginning in October 4, 2012.
Special Ops Combine Trainer, Stew Smith, says, "This is what the Special Ops Combine is all about. It is not about "muscle confusion" or a "magic black box" it is about the science of Periodization. Periodization is defined as an organized approach to training that involves progressive cycling of various aspects of a training program during a specific period. It is a way of alternating training to its peak during season. The aim of periodization is to introduce new movements as you progress through the macrocycle to specify your training right up until you start the season.".
Special Ops Combine is an extreme fitness-training program developed by former Navy SEAL, Stew Smith, designed for special operations training and creating the heroes of tomorrow.