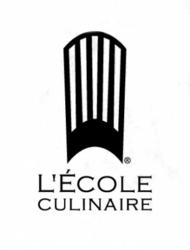 (PRWEB) July 16, 2012
L'École Culinaire presents "Summer Dinner with Wine" at its Presentation Room Restaurant, L'École Culinaire, 9811 South Forty Dr. The exclusive dinner will be prepared by top L'École students under the direction of seasoned faculty members Chef Lawrence Hutchinson and Chef Bryon Grant. Each course from the original menu of specialty appetizers, entrees and desserts will be paired with wine.
All are cordially invited to attend on August 23, at 6:30 pm. Customers will experience St. Louis' future chefs' innovative creations, including gnocchi with summer corn, white truffle and chive, followed by celery sorbet with macerated golden raisins and peanut powder.
In the final phase of L'École Culinaire's culinary degree programs, students have the opportunity to gain real-world experience by preparing meals and developing unique menus for the Presentation Room Restaurant. The Presentation Room Restaurant is the culmination of the L'Ecole's culinary degree program. The Restaurant transitions to a new menu during each educational phase. Student chefs use the skills taught at L'Ecole to run the restaurant as practical experience before entering the workforce. All gratuity and other donations go toward the L'École Culinaire Student Fund, which aids students in need of financial support.
Tickets are available for $65 per person. For reservations and other questions about Presentation Room or L'Ecole Culinaire, please call 314.587.2433.
L'Ecole Culinaire
9811 South Forty Drive
St. Louis, MO 63124
(314) 587-2433
About L'École Culinaire
As part of Vatterott Educational Centers, Inc., L'École Culinaire offers culinary training in St. Louis for the career-minded chef. Students experience hands-on learning and instruction from professionals in the culinary industry. For more information, please visit http://www.lecole.edu.