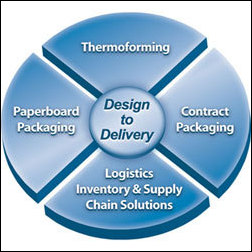 We use J&J as an extension of our own manufacturing internal unit to complement our internal competencies.
Sunman, IN (PRWEB) December 7, 2006
J&J Packaging's new construction of a 100,000 square foot facility in Sunman, Indiana is part of a strategic initiative that will help J&J meet the needs of clients such as Osram Sylvania, P&G, Gerber and other future prospects. It also accounts for an expansion of the Sunman J&J facility by more than 30%.
This strategic initiative has been branded as "SKUlutions" and is an answer to run away SKU management that occurs with specialty packaging demanded by today's big retailers like Target, Wal-mart and Kmart. Big chains and club stores control a growing segment of the retail industry, and their custom packaging requirements are numerous - and challenging. Everyday, for example, J&J packages truckloads of batteries in dozens of combinations for Duracell as they strive to meet these demands. Club stores need large-quantity packs, other retailers require smaller ones, yet others encourage products packed with promotional items. The result? A headache for consumer product manufacturers as they lose efficiency meeting the demands. J&J removes the headaches and the distractions by producing all packaging components, inventorying the packaging and the product, assembling, packing and shipping shelf-ready orders - on command. Working through J&J to meet retailer demands, manufacturers realize a financial benefit along with increased speed to market and the convenience of Supplier Managed and Owned Inventory (SMOI).
J&J will use this new facility to react quickly with smaller and more frequent shipments so clients can meet retailers' demands. Clients such as Gerber Products will benefit from pack to ship capabilities as remarked by Dean Solomos, Associate Director of Contract Manufacturing for Gerber. In a recent article in the Cincinnati Business Journal , Solomos quoted, "We use J&J as an extension of our own manufacturing internal unit to complement our internal competencies." Solomos explains that he often looks to J&J to use its "streamlined capabilities in thermoforming" which also increase Gerber's speed-to-market capabilities.
The new facility is being planned with a special layout to greatly support JIT and small package shipments. Features include:
· Specialized racking layouts for frequently turned pallet placement.
· High turn flow rack areas that will allow J&J to pull product in cases rather than pallets.
· Eight additional shipping bays to support daily customer deliveries.
J&J Packaging is an established manufacturer of paperboard packaging, thermoformed packaging and full service contract packaging. In addition J&J offers complete inventory and supply chain solutions. This combination of products and services allows J&J to produce all the components for a packaging project as well as inventory, pack and deliver complete packaged goods for clients.
Media Contact:
Bill Morgan
888-446-4844
####