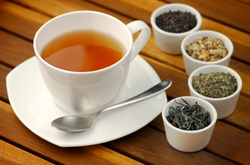 Tea is a very 'social' experience that is very much a part of North American cultures - much like the different types of social networks that have become so popular in recent years
Chicago, IL (Vocus) February 23, 2010
ESP Emporium, purveyors of specialty and loose leaf teas have announced a new, limited time Facebook promotion that encourages friends and customers to join their social fan base.
The promotion, which begins on March 1, 2010, offers Facebook users who become fans of ESP Emporium a chance to win a three-month membership to their very popular "Tea of the Month" club; each month, for three months, winners will receive 50 grams of two different varieties of specialty tea – (a total of 100 grams of tea).
"Tea is a very 'social' experience that is very much a part of North American cultures - much like the different types of social networks that have become so popular in recent years" said Steve Popec, co-owner of ESP Emporium. "Our customers must be noticing a trend at this point, with our Twitter promotion last month, and now an incentive to follow us on Facebook. We pride ourselves on offering specialty teas and products that reflect and complement the social aspects of our cultures, both internationally and within North America, and want to expand the social nature of our relationship with our customers".
"Much of our decision to launch this promotion is based on the overwhelming interest we've seen in our 'Send A Cup Of Tea' application, which embraces the social elements of both Facebook and the variety of tea we offer, by allowing users to pass along a virtual cup of tea to their friends and family" said Popec. "Many of the promotions we'll be running in the very near future will further involve Facebook, as it's an easy way for us to reach out to our customers and fans, to foster the community that we feel our products have created".
The Facebook Tea of the Month contest is limited to residents of the United States, and only the first 25,000 entrants/fans will be eligible. Current Facebook users who became "fans" of ESP Emporium's Facebook page prior to the launch of the Tea of the Month contest will also be eligible to win. Winners will be drawn at random, each time a 5000-fan milestone is reached. Once 25,000 entrants have become fans, monthly draws will be held until August, 31, 2010.
For more information about this announcement, please visit http://www.ESPemporium.com, or contact Steve Popec at 1-866-810-1818.
About ESP Emporium
ESP Emporium is a flourishing tea company offering an assortment of premium loose teas and tea-related accessories in the USA. Grown globally, their tea selection includes black teas, green teas, half fermented teas, flavored teas, fruit tea blends, Rooibos tea, herbal teas and more.
About the 'Send a Cup of Tea' Facebook Application
The 'Send a Cup of Tea' Application enables Facebook users to select from 30 different blends of tea, which virtually represent the loose tea and specialty teas offered by ESP Emporium, which can be sent to users listed on their (users) Facebook friends list.
###