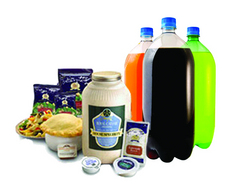 Viachem allowed us to gain the traction we needed to build market share for Dissolvine EDTA chelates, and our partnership has been incredibly successful.
Plano, TX (PRWEB) October 21, 2010
Specialty chemicals sales through distributors can be challenging, particularly in less-than-truckload quantities. Just ask Chuck Whitley, AkzoNobel's distributor sales manager for North America. For years, distributor sales of Dissolvine food-grade chelates had been falling short of his expectations. His distributors were representing hundreds of commodity and specialty chemicals, and as a result, Dissolvine seemed to be lost in the shuffle. Relegated to the "B-list" by distributors, Whitley saw sales remain flat year after year, even though Dissolvine chelates are "A-list" ingredients and are the only EDTA chelates in the world to have received the Food Safety System Certification 22000 for quality and integrity.
AkzoNobel EDTA chelating agents are specialty chemicals used to preserve the quality of foods and beverages and to prolong their shelf life. AkzoNobel's Dissolvine food-grade chelates, Dissolvine E-Ca-10 (calcium disodium EDTA), and Dissolvine NA2-P (disodium EDTA), are among the most respected and widely used ingredients of their kind in North America and are found in a variety of consumer products from soft drinks to salad dressings to pecan pie filling.
Then Whitley discovered Viachem at the International Food and Technology Exposition. Viachem was a new kind of distributor with a specialty chemicals sales, marketing and distribution process that Whitley saw could give Dissolvine the dedicated attention it needed. Unlike traditional distributors that add value through logistics, warehousing and repackaging (functions that add little value in niche specialty chemicals markets) Viachem's specialty chemicals sales team offered personal service and professional knowledge to the chelates markets that had been inaccessible to AkzoNobel up to that point. Whitley turned over responsibility for the Dissolvine line to Viachem in 2009.
Within two months, Viachem had sold through its warehouses of Dissolvine and called Whitley to get more product. The increased sales volume caught the attention of the AkzoNobel home office in Amsterdam, which granted Viachem access to buy full containers of product directly from The Netherlands.
Access to full-load shipments added to Viachem's benefits. Having Viachem manage the Dissolvine inventory in North America helped maintain profitability for AkzoNobel. By removing issues of storage, shipping and regular order management as well, Viachem cut down on the "grunt work" associated with dealing with and sampling unqualified prospects. Viachem's unique approach shortened the specialty chemicals sales cycle that was usually far longer than AkzoNobel's more commoditized chemicals. By the middle of 2010, Viachem had doubled Dissolvine sales in North America.
"Viachem allowed us to do something for our food-grade chelates we hadn't been able to do ourselves – gain traction and build market share for Dissolvine," said Whitley. "As a direct result, we've enjoyed greater sales than we expected. It's been an incredibly successful partnership, and one we intend to expand upon in the future."
About AkzoNobel
With more than 2,000 specialty chemical products available from its Functional Chemicals group, AkzoNobel is a major global producer of specialty chemicals. Headquartered in Amsterdam, the Netherlands, AkzoNobel is a Global Fortune 500 company and is consistently ranked as one of the leaders on the Dow Jones Sustainability Indexes. AkzoNobel employs more than 55,000 people and maintains operations in more than 80 countries.
About Viachem, Ltd.
Viachem serves a growing portfolio of international chemical producers by offering exclusive fine ingredient and specialty chemicals sales and marketing representation throughout North America. Viachem specializes in the food and beverage, personal care, pharmaceutical, nutraceutical and cosmeceutical, paints and coatings, industrial and household cleaners, and specialty wax industries. The company is headquartered in the Dallas suburb of Plano, Texas, and maintains warehouses throughout the United States. In 2010, Viachem was one of only 15 companies worldwide chosen to compete for the ICIS Chemical Business Innovation Awards, and was named runner-up in the Best Business Innovation category.
# # #