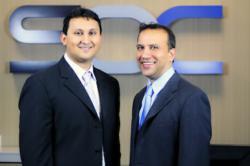 I couldn't be more excited to work closely with Florida Atlantic University's team this season
Boca Raton, FL (PRWEB) September 01, 2011
The 2011 football season has many fans excited, but perhaps Owl fans most. Head Coach Howard Schnellenberger, who will retire after the 2011 season, has a tenured and proven football career, both as a player and coach. Coach Schnellenberger and the Florida Atlantic Owls will eagerly take on the Florida Gators this Saturday, in spite of Schnellenberger's hip replacement surgery this August.
Coach Schnellenberger's surgery was performed by one of Florida Atlantic University's team orthopedic surgeons, Dr. Manish Gupta of Specialty Orthopedic Center in Boca Raton, FL.
However, Schnellenberger's surgery hasn't stopped the Owl's head coach from tackling what may prove to be FAU's most challenging season yet. By all accounts, the former Sun Belt Conference champions have a daunting schedule ahead of them this season, especially playing their first five games away, against teams like Michigan State and SEC giants Auburn and the Florida Gators.
As the Owls take on their grueling schedule, both home and away, the will be relying on a vast external network for their success. Florida Atlantic's external team will include a group of sports medicine and orthopedic specialists from local Specialty Orthopedic Center (SOC).
"I couldn't be more excited to work closely with Florida Atlantic's team this season," says Dr. Manish Gupta, a board-certified sports and joint reconstructive orthopedic surgeon and former athlete himself. "Our goal will be to keep the players and team staff healthy and fit to play, especially while on the road."
Dr. Ashish Sahai, also a founding partner of Specialty Orthopedic Center, part of Coach Schnellenberger's surgical team, and a member of Florida Atlantic's orthopedic specialty team says, "Florida Atlantic has a tough schedule this fall, undoubtedly. They've got an even tougher group of players and staff however, and we're on board to keep them healthy and competitive."
September 3 the Florida Atlantic Owls will open their season by running out onto Florida Field in The Swamp, a 90,000-seat stadium known for the uproar of its fans. Team doctors will have their work cut out for them to keep players in shape this season, given the additional wear and tear of travelling. "I'm looking forward to the challenge of this season," says Dr. Gupta, a University of Florida graduate who will enjoy returning to his alma mater as an Owl for the season opener in The Swamp.
About Specialty Orthopedic Center
Specialty Orthopedic Center (SOC) in Boca Raton, FL, combines the highest quality orthopedic and sports medicine services with a passionate commitment to patient care. Their expertise, compassion, and personal attention will see you through diagnosis and treatment as well as the healing process, for the healthiest and most thorough recovery possible. Whether you are a professional athlete, a weekend warrior, or simply enjoy an active lifestyle, their care is the same. SOC tailors surgical and non-surgical treatments to meet your individual needs, and uses advanced technology with time-tested techniques in order to provide you with the best results.
For more about Specialty Orthopedic Center (SOC), please visit: http://www.specialtyoc.com
About Dr. Ashish Sahai
Dr. Ashish Sahai is a Board Certified Orthopedic surgeon and spine specialist. Dr. Sahai completed his advanced spine training at Stanford University and held a staff appointment as Clinical Instructor in Orthopedic Surgery. He also has had the privilege of developing his techniques with the surgeons who designed the X-Stop, a newly developed minimally invasive device for spinal stenosis. Training with these surgeons allowed him to partake in several large academic studies on the forefront of spinal technology, including total disc replacement. He also published several articles and a textbook chapter as well as presenting at national and international meetings. Dr. Sahai is a founding partner of Specialty Orthopedic Center.
About Dr. Manish Gupta
Dr. Manish Gupta is formally trained as a scientist, clinician, and is a Board Certified Orthopedic Surgeon. Dr. Gupta is a founding partner of the Specialty Orthopedic Center, Boca Raton, Florida and is adjunct clinical faculty at Florida Atlantic University. He specializes in Sports Medicine. Dr. Gupta is working with FAU and a number of local high school teams this season. He is considered an expert in his field due to his wide breadth of knowledge in the area of medical sciences. He has a strong interest in social entrepreneurship and philanthropy. He regularly serves as sponsor and mentor for a number of outreach programs for children in underserved local communities.
###