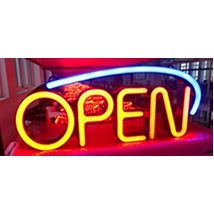 "This Open Sign is so bright my customer's say they can see it with at any time of day" Sue, The Dance School Alexandria DE
Des PLaines , IL (PRWEB) September 29, 2012
Illuminated Open Signs are great focal points for many retail businesses, from convenience stores to tobacco shops. Specialty Store Services currently carries a large variety of illuminated signs, including LED, neon-like, & neon and is happy to announce two new open signs to its customers.
The Neon Like LED Open Sign is energy efficient and environmentally friendly with a realistic neon look. It uses 50% more energy efficient than Neon Signs. This Neon Like Led Sign comes in rich neon like colors with a shocking Red Open and electric Blue Border. The LED sign measures 22"W x 9"H x 2"D and is lightweight for easy hanging. This sign comes with a remote control to adjust the sign for the most visibility. The sign is able to have several functions: All On, Flashing and Chasing. This sign is so luminous it is visible in the day or night. At $99.99 it is steel and shouldn't be passed up.
The other new sign is a LED Open Sign with an integrated Message Board. This is a great product to display promotions, specials and sale information for everyone to see. The advantage of this LED Sign is the ability to have two signs in one without having the clutter in the store window. Led Open Signs are as bright as neon without the neon energy consumption and environmental impact of mercury. The Led Sign measures 22" x 13" and comes with a remote control to have the ability to have constant on, flashing or chasing Open. The message board portion is the sign is fully programmable. The remote control can hold up to 99 groups of messages and each can be up to 120 characters.
Please visit Specialty Store Services' website or call its knowledgeable sales staff for more information about these attractive Led Open Signs.
About Specialty Store Services
Specialty Store Services, a second-generation family owned business, offers everything necessary to operate a thriving retail store, from logistical solutions and retail supplies to custom and stock fixtures. Over the last 25 years this service-driven company has cultivated relationships with global partners while developing the expertise and knowledge required to provide competitive prices, outstanding customer service and quality products.