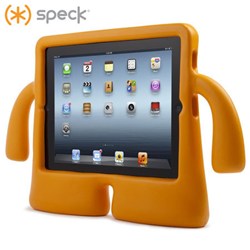 The Speck iGuy case is every bit as protective as it is fun.
Birmingham, West Midlands (PRWEB UK) 17 January 2013
Mobile Fun, the UK's leading online retailer of mobile phone and tablet accessories have sourced the Speck iGuy iPad case: the perfect case for child-proofing the iPad.
As more and more educational apps become available on the iPad, the greater of a learning tool it becomes for children. Therefore the iPad needs child-proofing to prevent any accidental damage from bumps and drops, which is where the Speck iGuy case steps in.
Manufactured from a strong foam style material, the iGuy iPad 4 case looks like a character with its arms and legs, making it a great companion for children when using the iPad. It's huggable too and thanks to the foam design can be dropped, squeezed and knocked over without causing any damage to the precious and expensive iPad.
The arms and legs of the Speck iGuy allow the iPad to be carried easily by children and also mean that it can be stood up, which is great for when videos and media is being streamed through the device. The ability to stand the iPad up which in the iPad 4 cover also means that children don't need to holding it at all times and can sit more comfortably when media is being streamed.
Ensuring that all the features and ports of the iPad can be fully accessed whilst using the iGuy, the cover includes the cut-outs for charger, camera headphone port, meaning that other iPad 4 accessories can still be used with the iGuy case. The iGuy does come with a cover for the camera lens, just to add that extra layer of protection to the lens and to prevent it from becoming scratched.
Allowing parents to leave children with the iPad without fear of it being broken, the Speck iGuy case is available from Mobile Fun now.
-ENDS-
About Mobile Fun
Birmingham based MobileFun.co.uk is the UK's biggest online retailer of Mobile Accessories, Mobile Phones, Ringtones and Mobile Java Games.
Mobile Fun has offices in the UK, Germany, Spain and France and delivers products to over 50 countries worldwide
Mobile Fun were recently named the 'Best Accessory Retailer' 2012 at the What Mobile Awards and won the title of Online Retailer of the Year at the Mobile News Awards 2012 for the second year running.