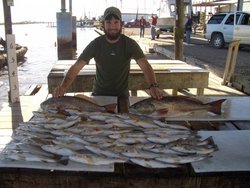 Capt. Denman is dedicated to the local waters in which he spends most of his time. I've fished with him numerous times and have never had a bad trip. Fishing is more than a hobby for this guy.
Saint Bernard, LA (PRWEB) February 9, 2011
Devin Denman has recently opened his own charter, fishing for Louisiana's wonderful speckled trout and trademark redfish. Captain Denman, formerly known as Sergeant Denman, served in the Marine Corps beginning in 2003. After completing two tours to Iraq, he came back home to do one of those Louisiana-style things he loves most: fishing for limits of speckled trout and redfish!
Rarely going by himself and always bringing a friend, Captain Denman enjoys showing people the great outdoors of Louisiana and what it has to offer. Often, he took fishing people that have never experienced the vast marshes of South East Louisiana. He has taken people fishing from all over the country, even to include international origins, like Finland. They were always surprised to discover that fishing in Louisiana isn't always about patience and waiting, but that it usually includes fast, non-stop action. "Some days I'll be done fishing well before noon. On the Witherell trip I had limited out on trout by 9am", says the Captain himself.
But that trout doesn't go to waste. Trout fillets keep well in the freezer and Captain Denman always ensures his customers keep as many fillets as they want. "I'm working on a method to safely ship the product back to their home." He is also known for donating fish to others and community events.
His charter takes after his nickname "The Swamp Stallion". According to his website, "He earned his nickname, 'The Swamp Stallion', the night he towed a dilapidated boat with passengers to safety. The boat had broken down and, as the sun was setting, he made the decision to tie the bowline around his chest and swim home, pulling the boat behind him through the alligator-infested waters of the Pearl River."
The Swamp Stallion will start chartering Fall of '11. Visit his website to learn more about the upcoming Louisiana Speckled Trout and Redfish Charter!
###