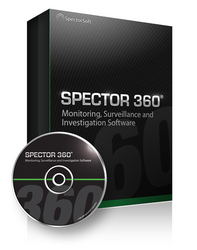 Spector 360 addresses a critical and growing need to monitor human behavior and activity as it relates to IT security, and to use real data in a very strategic manner to protect the best interests of the business.
Vero Beach, FL (Vocus) March 2, 2010
SpectorSoft Corp. announced today that its flagship PC and Internet monitoring software, Spector 360 (http://www.spector360.com), has been named a winner of the 2010 Product Innovation Awards for Best "Information Monitoring and Filtering Solution." Sponsored by Network Products Guide, a Silicon Valley Communications publication and technology research and advisory guide, these awards recognize and honor industry leaders and emerging companies for ground-breaking products that are bringing essential and incremental changes to networking and computing, and setting the bar higher in all areas of Information Technology. To read more visit: http://www.networkproductsguide.com/innovations/.
"Innovation is not just about releasing new products -- it's also about a focus on continuous improvement to meet evolving customer needs and provide solutions that deliver real business value," says Rake Narang, Editor-in-Chief at Network Products Guide. "Innovative network products such as Spector 360 are helping businesses address productivity, ethics, security, and compliance concerns head on by being more aware and in control of what users are doing at their computers at all times."
Spector 360 | 2010 records and archives user activity and stores it for future analysis when needed. It records all web sites visited, emails sent and received, chats and instant messages, keystrokes typed, files transferred, documents printed and applications run. Spector 360 feeds that activity into a database and provides more than 50 built-in reports and unlimited customization for a "bird's eye view" of employee patterns and behavior.
Enhanced activity recorders and screen snapshot capabilities continuously work behind the scenes and can be called into action at any time to "rewind and play" what someone did at their desktop, every step of the way. It lessens the burden on IT by eliminating the need to sift through emails or review the browser history to get to the root of an issue. Keyword alerts can be set to trigger a red flag when a user's activity may be in direct violation of the company's own Internet Acceptable Use Policy (AUP) or a compliance regulation like HIPAA, CIPA or Sarbanes-Oxley.
"Network Products Guide's recognition of Spector 360 further validates the demonstrable business value in PC and Internet monitoring and surveillance," said C. Douglas Fowler, President, SpectorSoft Corporation. "Product innovation is the cornerstone to continuously meeting our customers' needs and providing them with better solutions. Spector 360 addresses a critical and growing need to monitor human behavior and activity as it relates to IT security, and to use real data in a very strategic manner to protect the best interests of the business."
About Network Products Guide Awards
As industry's leading technology research and advisory guide, Network Products Guide from Silicon Valley plays a vital role in keeping decision makers and end-users informed of the choices they can make in all areas of information technology. You will discover a wealth of information and tools in this guide including the best products and services, roadmaps, industry directions, technology advancements and independent product evaluations that facilitate in making the most pertinent technology decisions impacting business and personal goals. The guide follows conscientious research methodologies developed and enhanced by industry experts. To learn more, visit http://www.networkproductsguide.com.
About SpectorSoft
SpectorSoft is the recognized leader and pioneer in the PC and Internet monitoring software market. More than 500,000 consumers and 50,000 businesses, government organizations, schools, and law enforcement agencies have purchased SpectorSoft products to help keep kids safe online, and to prevent Internet abuse, data loss, and compliance violations in the workplace. Products include Spector Pro, eBlaster, Spector Pro mac, and eBlaster mac for home and office use; and Spector 360, Spector CNE Investigator, and Spector Server Surveillance Edition for corporate-wide monitoring and reporting. SpectorSoft has earned numerous awards for product excellence and been named five times to Inc. Magazine's List of Fastest Growing Private Companies in the U.S. For more information call (888) 598-2788 or visit http://www.spectorsoft.com. For more information about SpectorSoft's award-winning products for corporate monitoring and surveillance, visit http://www.Spector360.com.
Contact:
Rebecca Ayers
Manager – Public Relations
Phone: (772) 770-5670
###