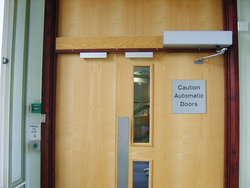 is when customers try out the equipment for the first time, I think they don't believe it will do what we say
(Vocus) November 4, 2010
Autumn has started with a host of new contracts for Bolton based electronic security systems installation provider 'Spectra Security'.
The company has won significant new orders despite the economic climate being restricted by spending cuts, like new automatic doors linked into a "Hands Free" access control system giving simple secure hands free access to secure areas for persons with disabilities or carrying equipment.
Called Cotag, the system was originally developed by a group of radio engineers working in a small lab in Cambridge in the early 1980's. Well it's come a long way since then. Nowadays, Spectra are using Cotag enhanced technology to produce some of the most sophisticated secure [access control] and automatic doors systems available anywhere. When linked and integrated with CCTV equipment then the result is very impressive.
Commenting on the contract awards Sales Director – Anthony Hockham said: "Contracts for Access Control, CCTV,http://www.spectrasecurity.co.uk/automaticdoors.aspx Automatic Door Openers and Access Management systems have been won from Prodrive, Six Town Housing, Harrogate NHS, B.W.F.C. and others, all against stiff competition, with Spectra being chosen for its record of excellent customer service, quality, reliability and great value for money proposals".
Another innovative solution involved the use of "Long Range" radio frequency identification devices (RFID) attached to security personnel's keys to detect if they were in an unauthorised area, again linking to access control and CCTV equipment this gives a simple, secure an effective approach to a problem that has given the customer a headache for years.
"What's really impressive", said Technical Director, Doug Dean, "is when customers try out the equipment for the first time, I think they don't believe it will do what we say", using ceiling mounted RFID aerials to detect the keys, they can identify the keys, users, time zones and if they are out of area. They can even be linked to the new "talking doors" product. This means if they are where they are not supposed to be, then a message is broadcast in that area advising the person that they have unauthorised keys on their person.
Spectra are confident that with their original approach to solving client's security issues and through the use of their sophisticated electronic solutions they are in an excellent position to continue their success and win more new contracts in the coming months, especially with some of the new systems which are ready for being launched, more details soon.
For Access Control, CCTV, Automatic Entrance Doors, Access Management Systems or Door Entry Security contact 'Spectra' for advice and proposals.
###