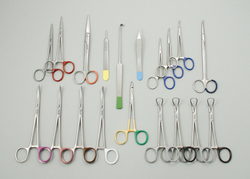 Stow, OH (PRWEB) July 13, 2010
Spectrum Surgical Instruments Corp. is pleased to offer Color Coded Surgery Packs. The unique color application process allows for easy identification of instruments.
Spectrum's General Surgery Pack is comprised of the finest German-made, German-crafted instruments, backed by the best warranty in the industry. The durable, fully autoclavable colored coating helps keep surgical instruments organized, reduces processing time, and eliminates misplacement of instruments in packs.
Economically priced and available in 13 different colors, Spectrum's Color Coded Surgery Packs are ideal for start-up practices or as a pack replacement program.
About Spectrum Surgical
Spectrum Surgical Instruments has been providing a full line of surgical instruments for Human and Animal health since 1982. Spectrum is a leading provider of surgical instrument repair, sharpening and restoration. Spectrum Surgical provides surgical equipment to surgery centers and veterinary centers across the United States.
For more information contact
Derek Lashua, Marketing Director
800-444-5644
###