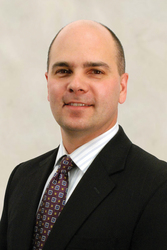 Stow, OH (PRWEB) March 10, 2010
Spectrum Surgical Instruments Corp., Co-Chief Executive Officer, Michelle Ready, is pleased to announce the appointment of Matt Rudolph to Vice President of Operations/ Chief Customer Advocate. Matt has over 15 years of experience with the company in sales, corporate training, and education. Having conducted over 350 lectures worldwide, Mr. Rudolph has extensive knowledge pertaining to the processing, testing, and inspection of surgical instruments. Additionally, Mr. Rudolph is the first person to have earned the CCVSP (Certified Central Service Vendor Partner) certification through the International Association of Healthcare Central Service Materiel Management. Matt is a graduate of John Carroll University and is married with two children.
Spectrum Surgical
Spectrum Surgical has been providing a full line of surgical instruments for Human and Animal health since 1982. Spectrum is a leading provider of surgical instrument repair, sharpening and restoration. Spectrum Surgical provides surgical equipment to surgery centers and veterinary centers across the United States.
For more information:
Derek Lashua, Marketing Director, at 800-444-5644.
###