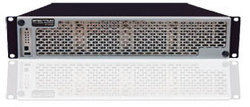 Burnaby, BC (PRWEB) October 18, 2010
Spectrum Signal Processing by Vecima ("Spectrum"), trusted supplier of embedded computing and processing solutions for more than 20 years, today announced the availability of a new product line of high-definition (HD) video encoders that will enable service providers to distribute a variety of stored and live video content over an IP network. Spectrum's video encoding solutions can be used in a number of applications in the video delivery market including IP television (IPTV), hospitality, local content insertion, remote security monitoring, digital program distribution, and distance education.
"Spectrum has a long history supplying high quality processing solutions for demanding military and defense customers. With this launch of our video processing product line, we have leveraged our history and our Vecima relationship to create a high quality and high channel density solution at a very competitive price," said Douglas Fast, President of Spectrum.
Spectrum announces the newest solutions in its video processing product line:

The DM-1321 and DM-1322 accept analog component video inputs (480p, 480i, 720p, and 1080i) and encode to MPEG-2 or MPEG-4 H.264. The encoders feature auto-sensing to detect input resolution, remote configuration via web-based GUI, streaming of TS files from USB, and Dolby AC3 or AAC-LC audio encoding. Users can select video and audio encoding formats for each channel. The video encoders output MPEG-2 transport streams over Gigabit Ethernet.
The DM-1332 accepts up to thirty standard-definition (SD) MPEG-2 encoded channels via IP over Gigabit Ethernet, and then transcodes to MPEG-4 H.264 over IP to a second Gigabit Ethernet port. The DM-1332 features logo insertion with alpha blending, along with audio-pass through or transcode from MPEG-1 Layer 2 to AAC-LC.
Call us today at 1.800.663.8986 to order. For more information, visit http://www.spectrumsignal.com.
ABOUT SPECTRUM SIGNAL PROCESSING BY VECIMA
Spectrum Signal Processing designs and builds board and system-level hardware solutions for demanding signal and video processing applications. Spectrum combines high-performance data acquisition (RF, analog and digital I/O) and reconfigurable signal and video processing hardware with its best-in-class support and engineering services to enable customers to rapidly develop and then deploy their products and systems. Spectrum has worked with both commercial and military customers worldwide to develop and deliver solutions optimized for Intelligence, Surveillance and Reconnaissance (ISR), video, military (MILCOM) communications and satellite communications (SATCOM) markets. For more information on Spectrum and its products, please visit http://www.spectrumsignal.com. Spectrum is part of Vecima Networks Inc and its products are designed and manufactured in Vancouver, British Columbia, Canada. See http://www.vecima.com for more information on Vecima.
FORWARD-LOOKING SAFE HARBOUR STATEMENT
Certain statements in this news release may constitute forward-looking statements which involve known and unknown risks, uncertainties and other factors which may cause the actual results, performance or achievements of the Company, or industry results, to be materially different from any future results, performance or achievements expressed or implied by such forward-looking statements. When used in this news release, such statements are generally identified by the use of such words as "may", "will", "expect", "believe", "plan", "intend" and other similar terminology. These statements reflect Vecima's current expectations regarding future events and operating performance and speak only as of the date of this news release. Forward-looking statements involve significant risks and uncertainties, should not be read as guarantees of future performance or results, and will not necessarily be accurate indications of whether or not such results will be achieved. A number of factors including, but not limited to, the factors discussed under "Risk Factors" in the Company's Annual Report dated September 28, 2009 available on SEDAR (http://www.sedar.com), could cause actual results to differ materially from the results discussed in the forward-looking statements. Although the forward-looking statements contained in this news release are based upon what management of the Company believes are reasonable assumptions, the Company cannot assure investors that actual results will be consistent with these forward-looking statements. These forward-looking statements are made as of the date of this news release, and the Company assumes no obligation to update or revise them to reflect new events or circumstances.
###