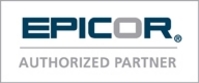 We congratulate the HRMS Solutions organization for their excellence in service, and dedication to the Epicor HCM product.
Washington, DC (PRWEB) April 19, 2011
HRMS Solutions, Inc. today announced that the firm has once again been named SPECTRUM Human Resources Systems Corporation "Business Partner of the Year." Epicor® Software Corporation, a leading provider of enterprise business software solutions to the midmarket and Global 1000 companies, acquired SPECTRUM Human Resource Systems Corporation in December 2010. This distinguished award recognizes the top-ranking business partner for their outstanding commitment and exceptional achievements in 2010 related to Spectrum's iVantage® solution, now branded Epicor HCM.
"We congratulate the HRMS Solutions organization for their excellence in service, and dedication to the Epicor HCM product," said Matt Keitlen, Vice President of Operations for Epicor HCM. "HRMS Solutions continues to deliver successful implementations for clients year after year. The HRMS Solutions team approaches every opportunity with integrity, takes pride in their work and ensures prospects and clients are matched with the ideal software solution to meet their business objectives and human capital demands."
"Being honored with this award for the third consecutive year clearly demonstrates our commitment and firm belief in the former Spectrum iVantage, now Epicor HCM solution," said Mike Maiorino, President of HRMS Solutions. "Not only are we excited about this Partner of the Year recognition, but also very excited about the recent Epicor acquisition of Spectrum. I believe this acquisition will provide our existing and future clients with better financial transparency, quicker delivery of product enhancements and greater depth of the product features. Epicor's push in areas of mobile technology, analytics, social networking and country localization will continue to keep the solution on the leading edge for organizations wanting to maximize their human capital."
About Epicor Software Corporation
Epicor Software is a global leader delivering business software solutions to the manufacturing, distribution, retail, hospitality and services industries. With 20,000 customers in over 150 countries, Epicor provides integrated enterprise resource planning (ERP), customer relationship management (CRM), supply chain management (SCM), human capital management (HCM) and enterprise retail software solutions that enable companies to drive increased efficiency and improve profitability. Founded in 1984, Epicor takes pride in more than 25 years of technology innovation delivering business solutions that provide the scalability and flexibility businesses need to build competitive advantage. Epicor provides a comprehensive range of services with a single point of accountability that promotes rapid return on investment and low total cost of ownership, whether operating business on a local, regional or global scale. The Company's worldwide headquarters are located in Irvine, California with offices and affiliates around the world.
About HRMS Solutions, Inc.
HRMS Solutions is a national provider of workforce management solutions. The broad portfolio of HR technology offerings delivered by HRMS includes HRIS, Recruiting and Talent Management, Payroll and Time & Attendance for small to mid-market businesses with 50 to 5,000 employees. It is HRMS' mission to serve as a trusted advisor to our prospects and clients to meet their human capital challenges with objectivity, credibility and integrity. HRMS currently works with more than 400 companies throughout the globe and across a wide variety of industries including architectural, engineering and environmental firms, federal contractors, not-for-profit organizations, healthcare, legal firms and financial institutions. To learn more about our solutions and services, please visit our website at http://www.hrmssolutions.com.
Epicor is a registered trademark of Epicor Software Corporation. Other trademarks referenced are the property of their respective owners.
All product and service names mentioned herein are registered trademarks or trademarks of their respective owners.
# # #